Facilities
SMS Facilities
Click the links below for more information about each specialty station in the Student Multimedia Studio. Click the "schedule" link next to a station name to reserve a time slot.
---
About the SMS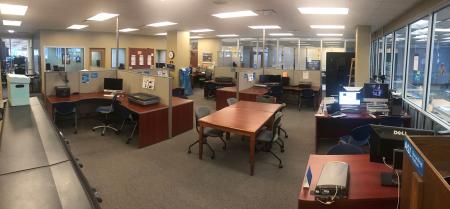 The SMS is open to all currently enrolled Kent State students for free. In the SMS students can work on any variety of multimedia projects - from recording audio to editing video, 3D modeling, creating PowerPoint presentations, working in Photoshop, and much more. Follow the left-hand navigation for additional information about the equipment and software that are available to students in the studio.
Equipment
3 general Windows multimedia computers
4 general multimedia iMacs
3 8.5x11" flatbed scanners, some with ability to digitize film
2 11x17" flatbed scanners
1 Windows and 1 Mac video editing suite in reservable rooms
1 audio recording booth equipped with an iMac
1 podcasting studio, equipped with:

4 microphones
4 headphones
8-channel digital mixer and recorder
1 Windows computer

1 video conferencing suite, equipped with a Windows computer
1 Windows video capture station, capable of digitizing:
1 Windows audio capture station, capable of digitizing:

audio cassette tapes
vinyl records
CDs

large-format document and object capturing station (copystand with 2 light sources, used to take photos of items too large for scanning)
1 iMac workstation for ASL (American Sign Language) recording
External Blu-ray DVD burner
External card reader for SD, microSD, MMC, etc.
External floppy disk drive
External Zip disk drive
External Jazz disk drive
3D printers (visit the 3D Printing libguide for details)
Cricut Maker and Cricut EasyPress
Popup green screen studio
3D pen tools
Tabletop photo studio kit (for photographing small objects)
Camcorder checkout
Looking to borrow a video camera? This service is available through the Circulation Desk and managed by Circulation Services. For more information, visit Circulation's Camcorder and Accessories Information page.
Software
For the list of software that's available on the various University Library workstations (including the SMS), visit the Library Workstations libguide.
Printing
Printing from the SMS computers is available for the general multimedia stations only to the library's public print stations.
Color laser printing: 14 cents per 8 1/2" x 11" sheet
Black & white laser printing: 7 cents per 8 1/2" x 11" sheet
There is one main print station on the first floor
The SMS also offers 3D printing to KSU students for free. Visit the 3D Printing Libguide for details