Student Multimedia Studio
Student Multimedia Studio
Student Multimedia Studio
About the Studio
Located on the 1st floor of the Kent State University Library, the Student Multimedia Studio (SMS) provides currently enrolled KSU students with a wide range of multimedia equipment, software, and support. At the Student Multimedia Studio, students can create PowerPoint, web, video & audio presentations and e-Portfolios, as well as scan and edit documents and photographs, create graphics and animation and receive one-on-one instructional support from peer mentors or professional staff. The SMS is one of many nodes in the Design Innovation ecosystem at Kent State.
The resources in the SMS are available first come, first served except for a select few that are available via reservation - the video editing suites, video digitization, audio recording booth and video conferencing.
Click the links below for more information about each specialty station in the SMS.
Related Links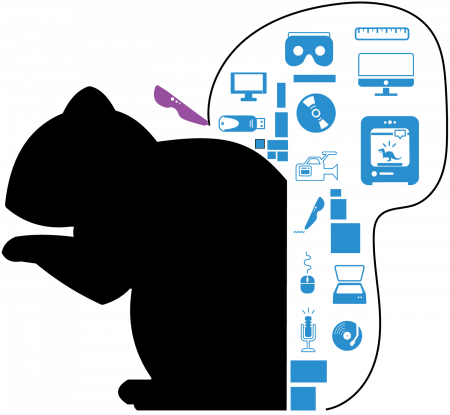 Contact
Phone: 330-672-0221
Email: kentstatesms@gmail.com
Manager: Hilary Kennedy
Hours
Fall 2022 hours:
Mon - Thu, 10 a.m. - 9 p.m.
Fri, 10 a.m. - 4 p.m.
Sat, Noon - 4 p.m.
Sun, Noon - 9 p.m.
Finals Week hours:
(Dec. 12 - 18, 2022)
Mon - Thu, 10 a.m. - 9 p.m.
Fri, 10 a.m. - 4 p.m.
Sat - Sun, CLOSED
Winter Break 2022 - 2023 hours:
Mon - Fri, 10 a.m. - 4 p.m.
CLOSED Dec. 23, 2022 - Jan. 2, 2023
Visit the Hours & Contact Info page for more details.
Jobs at the SMS
The Student Multimedia Studio employs a team of Student Consultants to assist in the operations of the makerspace. To apply for a job at the SMS, visit the Jobs for Students page on the University Libraries website.
The SMS will be hiring for spring semester. Apply now, making sure to include  availability for spring semester.