SMS Hours & Contact Info
Summer 2022 hours:
Mon - Fri, 10 a.m. - 4 p.m.
Sat / Sun, CLOSED
Also CLOSED June 20th (in observation of Juneteenth) and July 4th
Holiday closures:
Martin Luther King Jr. Day
Easter Sunday
Memorial Day
Juneteenth (on observed day)
4th of July
Labor Day
Fall Break 2021, Oct. 14-17 (limited hours)
Veteran's Day (Nov. 11)
Thanksgiving (TBD)
KSU Holiday Schedule (TBD)
Spring Break (open with limited hours)
For holiday and other intersession hours visit the University Libraries Hours Sheets page.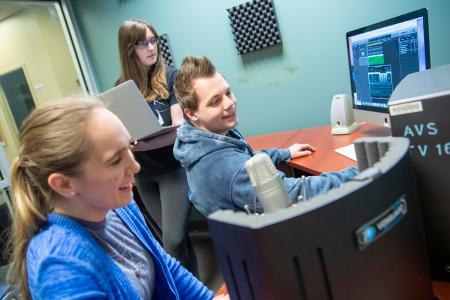 Contact the SMS
Before contacting us for help with a project, please visit the Tutorials page first to see if the answer to your question can be found in one of the tutorials.
You can reach a student multimedia consultant directly at 330.672.0221 or kentstatesms@gmail.com.
Hilary Kennedy, SMS Manager
Phone: 330.672.1848
Email: hmkenned@kent.edu
Jobs at the SMS
The Student Multimedia Studio employs a team of Student Consultants to assist in the operations of the makerspace. To apply for a job at the SMS, visit the Jobs for Students page on the University Libraries website.