Grab & Go
What is Grab & Go?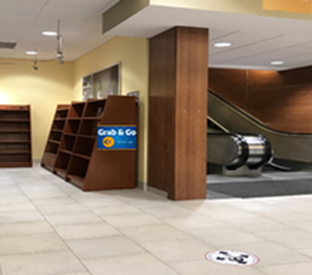 Grab & Go allows you to check out materials via a contactless service at the Kent campus University Library. This inside pickup location is across from the Library Services Desk on the first floor of the main library.
How does it work?
Browse our KentLINK catalog and request your item(s).
Choose Kent-Main Grab & Go as the pickup location when requesting.
Allow up to 3 days for KSU campus material and 7-10 days for off-campus material to arrive and be processed.
DO NOT come to the Library until you receive an email that your items have arrived AND you have scheduled to pickup your items.
On the day of your appointment, your items will be available between 9:00am - 4:00pm.  The Grab and Go pick-up shelves are across from the Kent Campus Library Services Desk on the first floor.
Your items will be checked out to you before you arrive - just grab and go.