Circulation
Services
Welcome to  Circulation Services!  As of Fall 2020, the AskMe Desk and Circulation Desk have combined services and will continue to provide you with the best service possible. Reference Librarians are still available to answer any research related questions. If you would like personalized research assistance, Meet with a Librarian.
Requesting materials and picking them up is now easier with contactless Curbside Pickup.
Looking for an individual study room?  You can book a Small Group Study Room here.
The Circulation Desk assists library patrons with the location and circulation of library materials in addition to general and directional questions. Need help locating an academic article or have research questions? We can help with that! Are you trying to find core textbooks for your class? We can help with that too! Not sure where your class is located? Don't worry; we've got your back! 
Our other services include, but are not limited to, check-outs and check-ins of materials and technology, securing materials from other libraries via OhioLINK and SearchOhio, reshelving of library materials, and maintaining order in shelving areas. 
Quick Links
How to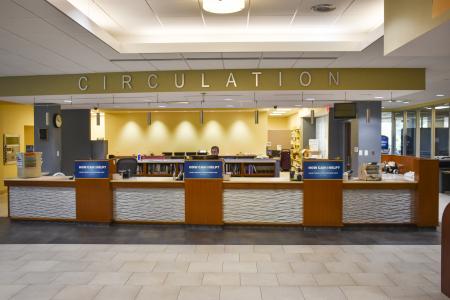 Location
1125 Risman Drive Kent, Ohio, 44243

First-floor lobby, University Library
Hours
See Building Hours
The circulation desk closes 15 minutes before the building.
Contact