We strive to continuously improve the SMS facilities and support services to better serve our patron's needs. You are an important part of this process. Send us your suggestions by email, fill out a survey when you're at the SMS or just talk to us.... we really care and will do everything possible to accomodate every student's and faculty's needs.
ALL NEW WORKSTATIONS INSTALLED AND READY TO GO!!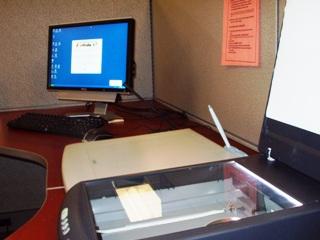 The installation of all the new workstations was completed during the Winter break. All the general multimedia.scanning stations as well as the digitizing stations, non-linear video editing, a new ASL Recording station and an improved large document digitizing station are in place and ready for you to start using them.
We also now have an i-MAC with Adobe Creative Suite CS3 (includes Illustrator and In-Design) as well as Final Cut Studio 6 (for digital video editing). This station (as well as the PC video editing systems) can be reserved in advance for up to 4 hours per day.
Large Format Document/Object Digitizing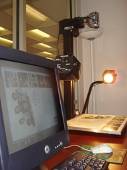 A new 8 mega-pixel Canon Digital SLR camera has been installed and is now ready for shooting high quality photographs of documents, maps, artwork, architectural drawings or anything too big for a flatbed scanner... even 3D objects. Complete control over exposer, shutter speed, ASA, etc. is done at the computer workstation and the photographs are saved directly to the computer's hard drive for editing or to transfer to your own removable media.
NOTICE: Zip drives and floppy drives no longer available.
With the recent replacement of all the workstations, floppy and zip drives are no longer available in the SMS. These were replaced with Smart Card readers and USB ports for Jump Drives.
Student Multimedia Studio