News
Special Collections and Archives
News
Special Collections and Archives
News
September 28, 2023
Special Collections & Archives Welcomes New Student Employee, Abby Fife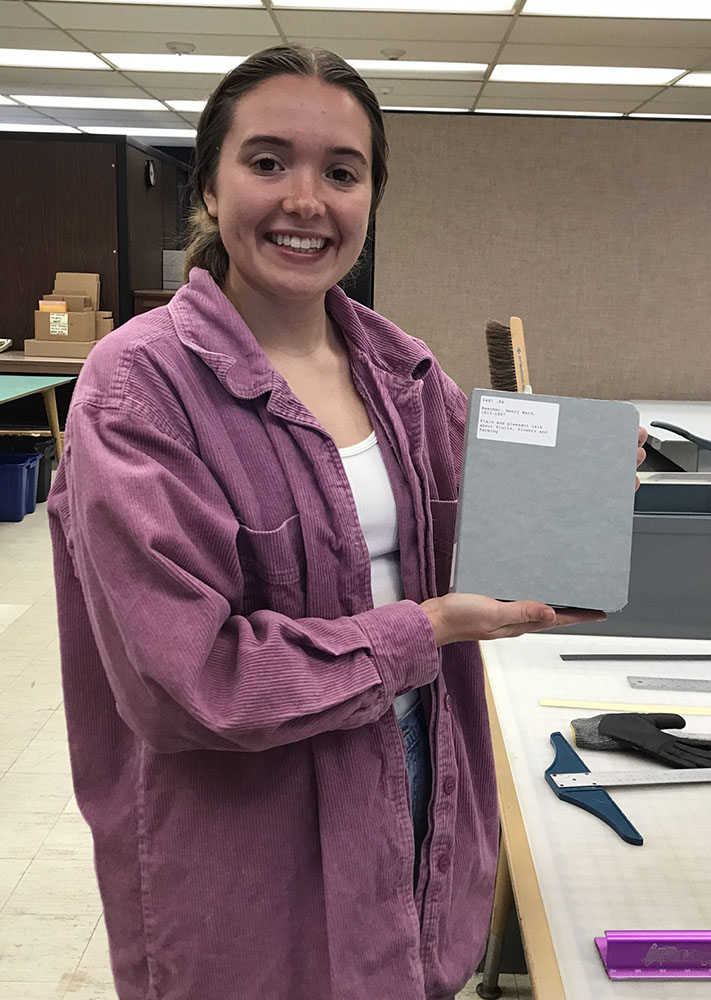 Welcome to our new student employee, Abby Fife! She just learned how to make custom archival containers for fragile items in the collection and was willing to pose for this photo with her very first box. Abby is a senior from Linesville, PA, and is majoring in English and minoring in Italian and creative writing. In addition to joining our staff in Special Collections & Archives, she is very involved on campus as the manager of Flashes Fighting Hunger and as an intern at the Wick Poetry Center. We are very happy to have her on our team this year!
April 24, 2023
Share Your May 4 Story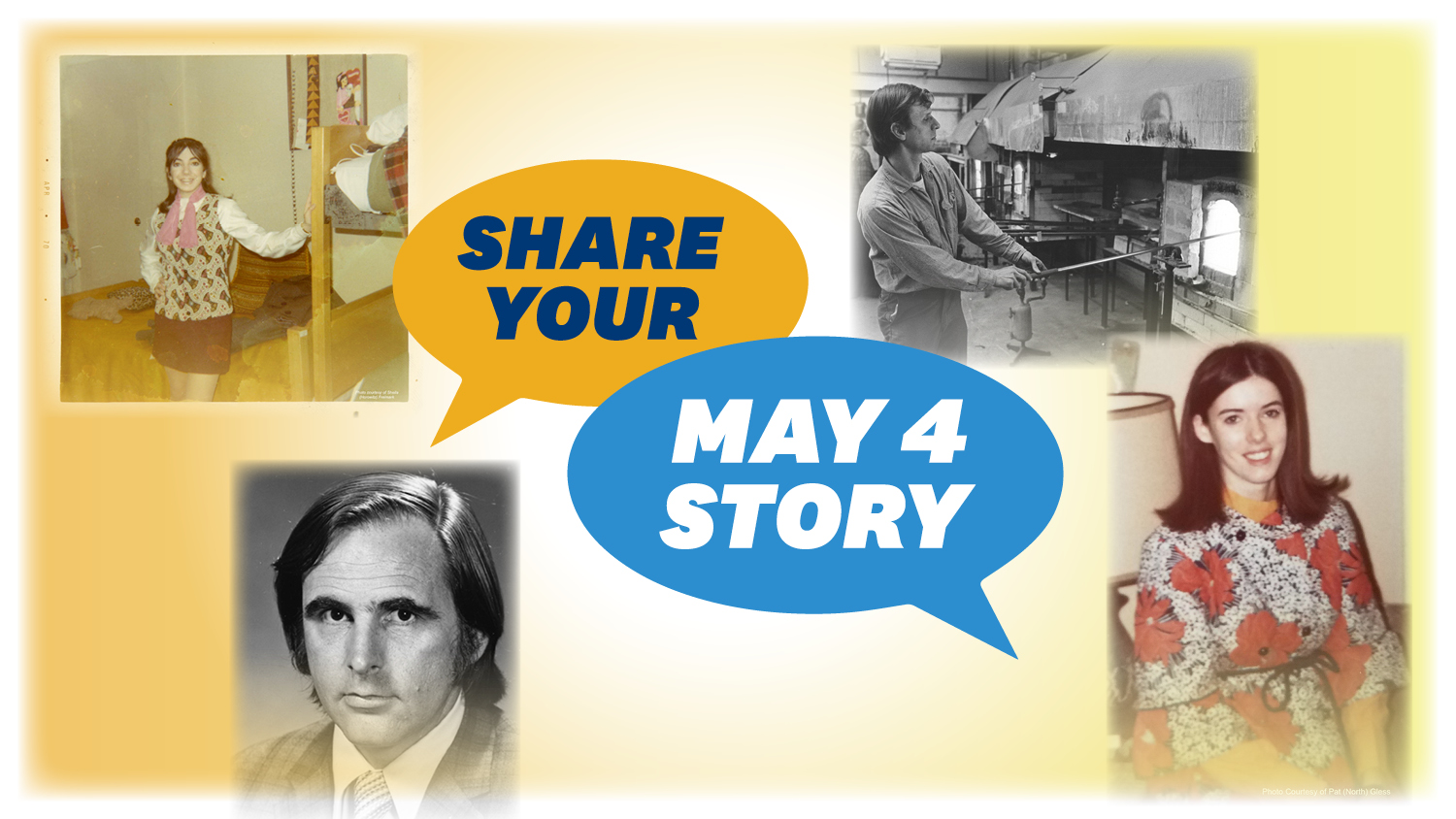 The Kent State Shootings Oral History Project invites people of all perspectives, including those whose lives were affected by the events surrounding May 4, 1970, and its aftermath, to participate in the Oral History Project. These rich and unique accounts are an important contribution to the historical record and will be permanently archived in Special Collections & Archives, which houses the May 4 Collection. Interested in participating? Visit our webpage to learn more about the three ways to "Share Your May 4 Story."
March 20, 2023
Special Collections Staff Member's Summer Professional Development Activity
by Kate Medicus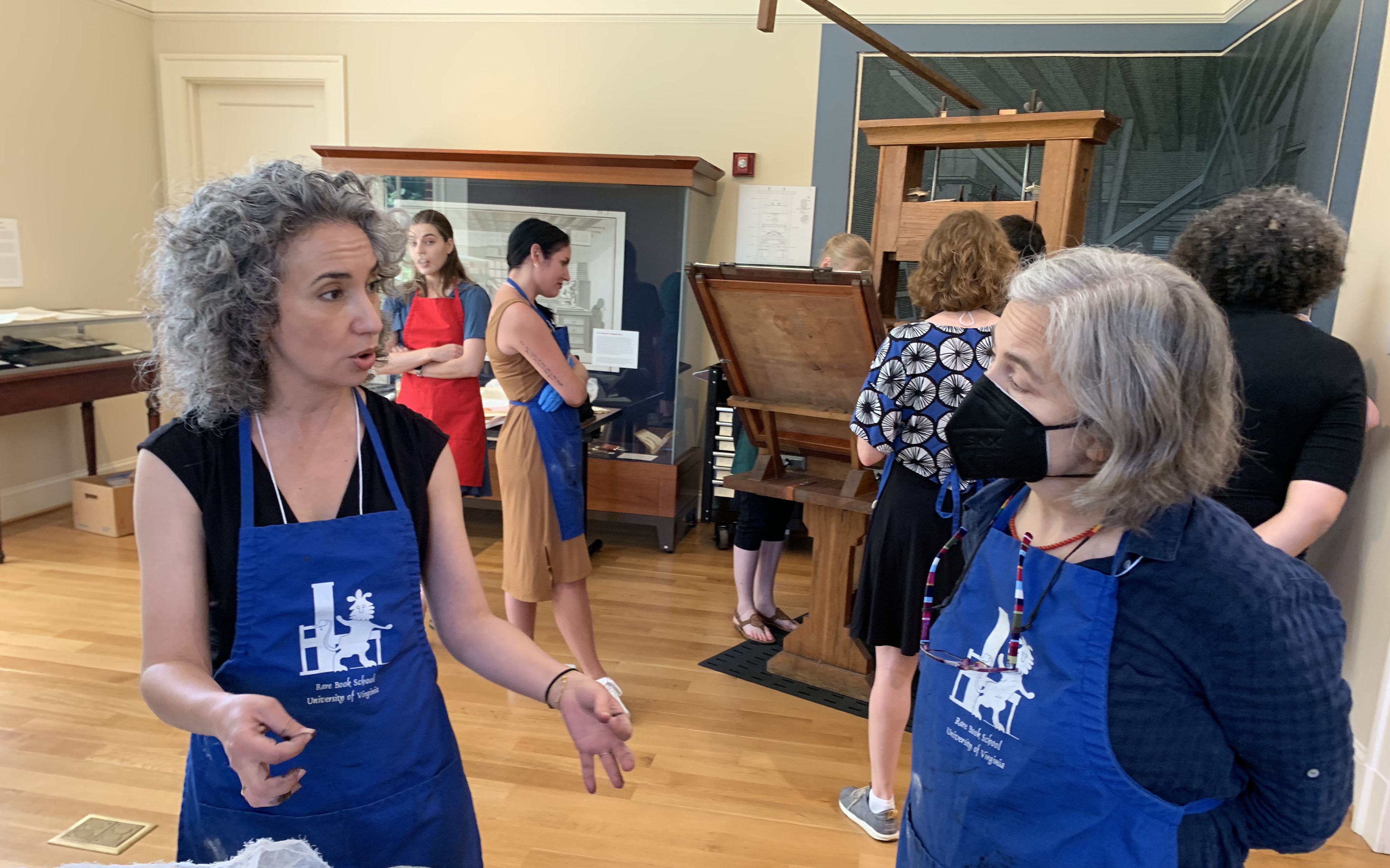 I am very grateful for the funding provided by the Winebrenner Award which allowed me to attend a week-long course at Rare Book School at the University of Virginia in Charlottesville July 10-15, 2023. Rare Book School "provides continuing-education opportunities for students from all disciplines and skill levels to study the history of written, printed, and digital materials with leading scholars and professionals in the field." The subject matter was challenging, the title of the course I attended is The Illustrated Scientific Book to 1800.
We had a very knowledgeable and amicable group in my course, both among my eleven fellow students and our two instructors: Caroline Duroselle-Melish is a curator at the Folger Shakespeare Library in Washington, D.C. and current president of the American Bibliographical Society and Roger Gaskell is a British antiquarian bookdealer who specializes in historical scientific and medical books. They are long-time colleagues and collaborators and the class often had a very informal feel, as if we were in a café with them and privy to their discussions and debates.
If I had to choose one concept that I took away from this course it would be the enormous impact of printing on the history of science in early modern Europe. The invention of printing in the 14th century enabled precise and accurate scientific images to be disseminated widely for the first time in western history. During the manuscript era, scientific illustrations had to be individually drawn by hand; this was slow work and the images were not always reliable. I am able to apply this, along with other course content, in my work to describe and highlight our strong historical science and natural history collections in Special Collections & Archives.
February 6, 2023
EXHIBITION NOW OPEN THROUGH FALL 2023
Lafayette Tolliver: Visual Footprints in Time
Marovitz Gallery, 1st Floor, University Libraries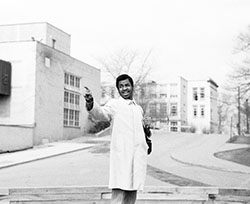 Celebrate Black History Month with University Libraries! This exhibit features a selection of content, including over forty photographs, from the Tolliver archive that documents Kent State student life from 1967-1971.
There is also a digital version of this exhibition.
Save the date for a University Libraries Black History Month special event featuring a visit from Lafayette Tolliver on Thursday, February 23, 2023, 5:00-7:00 p.m.
October 25, 2022
New Read Assistant Appointed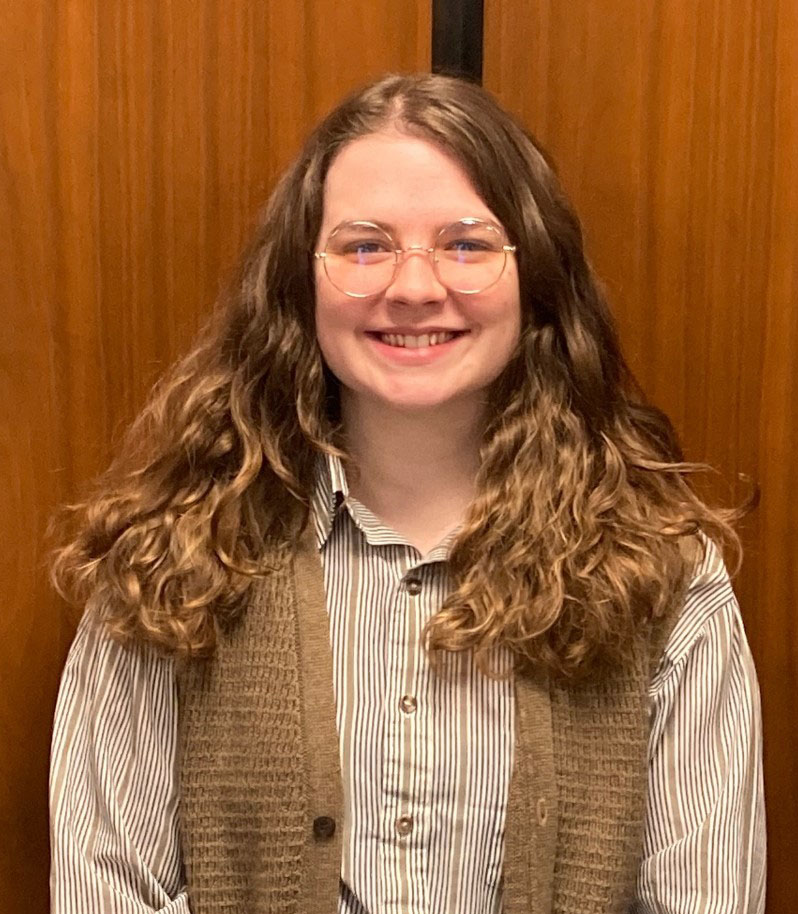 Special Collections & Archives is pleased to welcome its new Read Graduate Assistant (GA), Savannah Gould, who started her work with us this fall semester. Savannah earned a Bachelor of Arts in English Literature, Creative Writing at Capital University in Columbus, Ohio. She comes to us with significant prior work experience in libraries, having worked as Library Assistant in the children's department of the Cuyahoga Falls Public Library and as Circulation Supervisor for the Blackmore Library at Capital University. She also honed her problem solving and communications skills as a Senior Resident Assistant, also at Capital University, for nearly two years. Her work as Read GA will give her a well-rounded pre-professional experience working in an academic special collections and archives unit, including public services, archival processing, collection management, preservation work, digital projects, and many other aspects of this field.
The Read Assistantship was created through a generous gift from the family of the late Victoria C. T. and Dr. Gerald H. Read in 2006. A goal of this program is to provide financial support to future librarians, while they gain real-world experience in the administration of special collection and archives. The assistantship is available to a full-time Master's-level graduate student, enrolled in the iSchool's Library and Information Science program, who displays an interest in special collections and archives librarianship while exhibiting a high level of scholarship and academic excellence. The award includes a stipend plus tuition remission.
We are excited to have Savannah as a member of our Special Collections & Archives team.
October 17, 2022
Exhibition: Everlasting Ephemera: Printed Response to the May 4th Shootings, Oct. 13 - Nov. 11
May 4 Visitors Center, Taylor Hall
Print media, such as posters, pamphlets, and printed t-shirts and buttons, have a long history of being used by the public to respond to major events. Kent State University students and community members are no exception, using print media to respond to the May 4th Shootings in 1970, and following related events including the National Student Strike of 1970, Tent City/Gym Annex Protest of 1977, and Memorial Protest of 1986. In this exhibition of print media from Kent State University's Special Collections and Archives' Kent State Shootings: May 4 Collection, viewers can understand a sense of urgency in the print-based work, as students and others affected by these tragic events took matters into their own hands, utilizing print media's inherent ability to make multiples to share their assertions and emotions with the masses. Though most of the pieces in this exhibition were intended to be used and consumed for a short period of time, these ephemeral printed works have been archived and preserved for future generations to learn from and be inspired by. This exhibition is in tandem with the Mid American Print Council Conference (MAPC), The Power of Print: Resistance, Revolution, and Resilience. This regional printmaking conference is hosted by Kent State University and takes place this October 13-16, 2022.
September 28, 2022
NOW OPEN
Exhibition: A Full and True Account? Four Sensationalized Trials in Great Britain and America, 1824-1935
Marovitz Gallery, 1st Floor, University Libraries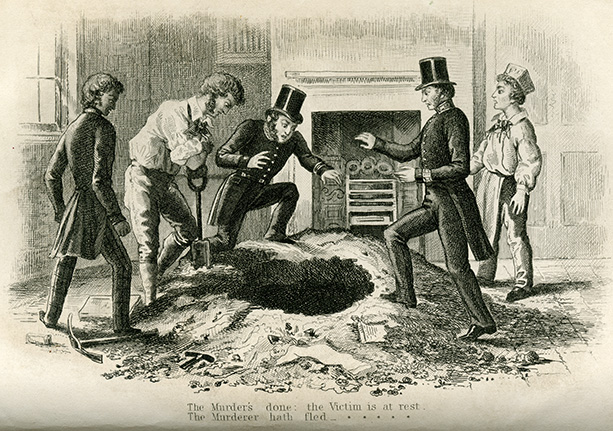 The intersection of crime and cultural production has a long history. Popular consumption of trials, now accessible online in the form of video clips, and commentary shared swiftly on apps like Facebook or TikTok, has been in practice for centuries. The materials in this exhibition will focus on four sensationalized trials: the trial of Ephraim K. Avery for the murder of Sarah Cornell, the trial of John Thurtell, Joseph Hunt, and William Probert for the murder of William Weare, the trial of Maria and Frederick Manning for the murder of Patrick O'Connor, and the trial of Bruno Richard Hauptmann for the murder of Charles Augustus Lindbergh, Jr.
Items featured are selections from the Borowitz True Crime Collection, housed in Kent State University Libraries Special Collections and Archives. (Curated by Haley Antell)
Check our Exhibitions page for information on our physical and virtual exhibitions.