Chromebooks
Performing Arts Library
Chromebooks
Performing Arts Library
Chromebooks
The Performing Arts Library has Chromebook laptops for checkout to Kent State University students, faculty, or staff.  
An Introduction to Chromebooks
A Chromebook is not the same as a Windows or Mac laptop, and uses ChromeOS operating system.  Programs normally installed on PCs or Macs can't be installed on a Chromebook.  You can only install Chrome Apps or Extensions from the Google Web Store. Once you have installed an App, it is associated with your account and will usually show up no matter which Chromebook you login to. This means you can add any apps you want while using this computer. 
Security
These computers are set up to only allow the use of a Kent State University login.  To use the laptop, use the same user name and password as you would use for Flashline.  It will automatically sign you in and sync to programs like your Kent State email, Google Drive, and any bookmarks or apps you have saved for that account.  Simply logging off or shutting down the computer will erase all of this information.  We won't even be able to see what logins have been used. For more details on security, applications, downloading and other topics review the Performing Arts Library Chromebook FAQs.
Loan Period & Charges
2 Day check-out until closing time at the Performing Arts Library (Mon-Tue at 8:59pm, Sun and Wed-Thurs at 7:59pm, and Fri at 4:59pm).
Saturdays, Sundays, and Holidays are not counted in the two days.
Check your receipt or account online for exact due date.
Examples:

Check out on a Monday; return by 7:59pm on Wednesday
Check out on a Wednesday, return by 4:59pm on Friday
Check out on a Thursday or Friday, return by 8:59pm on Monday

Visit the University Libraries Charges webpage for information on charges for Chromebooks.
Computer Specifications
11.6" display
Wi-Fi 802.11 a/b/g/n
VGA Camera
1x USB 3.0, 1x USB 2.0
Full size HDMI Port
Bluetooth 4.0 Compatible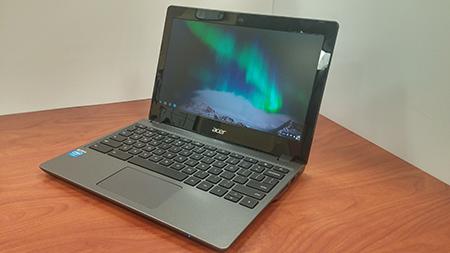 Quick Info:
2-day loan period
Available to any KSU student, faculty, or staff
Personalized log-in
Includes a charging cable and carrying bag
Chrome Operating System
11.6" display
Also available at the Main Library Circulation Desk