Welcome International Students!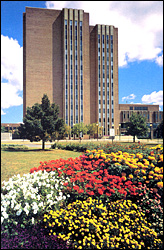 University Libraries of Kent State University welcomes you to the KSU community. This page is intended as a starting point to help you navigate the variety of services and resources provided by KSU University Libraries.
The library systems used in this country may vary from those of your home country. The following resources are intended to help familiarize you with our terminology, facilities, services and resources. If you have questions about any of the following, please stop by or call the Main Library Reference Desk at (330) 672-3150.
Facilities
Visit this page for a variety of ways to explore our Library resources and service points.
Use these links to learn more about the 14 Libraries at Kent State.
Library Organization and Policies
The KSU Libraries use an open stacks system, which means that in all areas (with the exception of Special Collections and Archives) you will need to retrieve books on your own. Use the link above to go to a guide on locating items by call number.
Click above for information on loan periods, renewals and fines.
Getting Help in the Library
There are many ways to get help in the libraries...in person at the Reference Desk, by phone, my email, by Instant Messaging (IM) and more...
For in-depth assistance, subject specialists are available. Click above for a listing of Librarians by subject.
If you would like to speak to a librarian in your native language, check here for a list of librarians with foreign language proficiency.
Language-Related Resources
Look here for some recommended language resources, both print and online.
Look here for directories of news websites from around the world and in many different languages.
Highlights of Other UL Services
For a complete listing of services, refer to the University Libraries Homepage.
Our Interlibrary Loan service enables you to request and obtain materials such as books and articles that are not in our KSU collections. Most requests are able to be processed free of charge.
The KSU main Library is a Government Depository Library, which means that government publications and information are readily acquired by this library. Portions of the 10th floor of the Main Library contain the Government Documents collection and much government material is now accessible online as well. Click above for more about Government Information Services at KSU.
Located on the first floor of the Main library, the Student Multimedia Studio (SMS) provides a wide range of multimedia equipment, software and support to create presentations for course projects. It is open to all students.