Support University Libraries' Scholarship Fund
Support University Libraries' Scholarship Fund
Support University Libraries' Scholarship Fund
Sharing the Positive Impact of My University Libraries' Student Scholarship

 
Hello, my name is Bristyn Nadeau and I'm a senior applied communications major. Please view my message below to hear how the Kent State University Libraries' Student Scholarship is helping me achieve my dreams.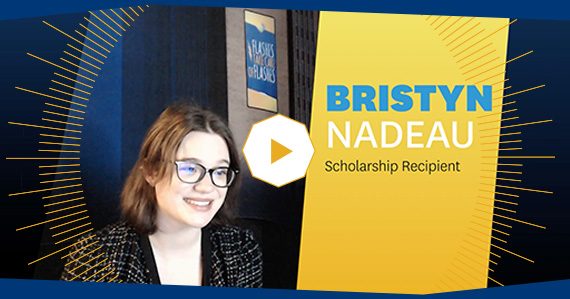 Open to undergraduate students of any major, these scholarships relieve students' financial concerns and allow them to focus on academics. By helping students and their families cover educational expenses, this scholarship allows them to remain enrolled and on track toward graduation.
Contributions from generous donors support the library's mission of supporting students' success by awarding these scholarships to numerous, worthy undergraduate students every year.
We ask that you consider joining us by contributing to this scholarship fund.

Your gift will help students like me go on to radiate brilliance across the country and around the globe, one Flash at a time.
At Kent State, what sets us apart is how we come together. Your support of University Libraries' Student Scholarships helps make the world Forever Brighter.
Sincerely,
Bristyn Nadeau,
Honors College Student and Senior Applied Communications Major