May 4 Memorial (Kent State University)
Special Collections and Archives
May 4 Memorial (Kent State University)
Special Collections and Archives
May 4 Memorial (Kent State University)
May 4 Memorial (Kent State University)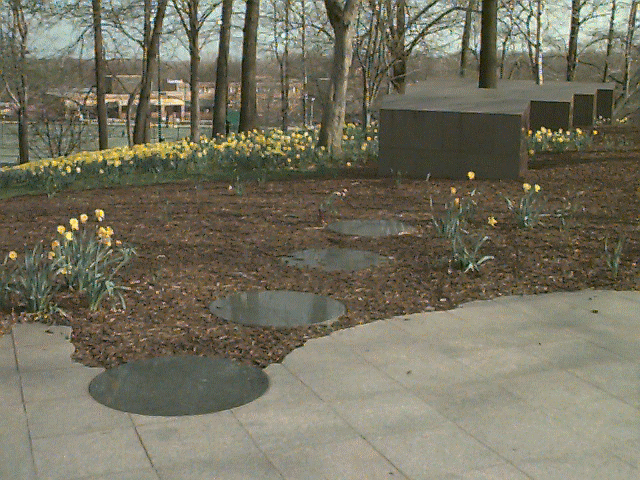 Resting on a 2 1/2-acre wooded site overlooking Kent State University's commons, the May 4 Memorial commemorates the events of May 4, 1970, when four students were killed and nine were wounded during an anti-war protest on the Kent Campus.
The memorial provides visitors a retreat for interpretation and reflection. Its environmental design by Chicago architect Bruno Ast was developed from a concept submitted by Mr. Ast to the University's National Design Competition in 1986.
Constructed of carnelian granite, a stone associated with strength and time, the memorial is surrounded by 58,175 daffodils, the number of the country's losses in Vietnam.
A plaza measuring 70 feet wide is bound by a granite walkway that merges with the sidewalk winding from residence halls to the heart of the academic campus.
The plaza extends onto the hillside some 22 feet, ending in a jagged, abstract border symbolic of disruptions and the conflict of ideas. Its fractured edge suggests the tearing of the fabric of society.
A granite wall built along the entry defines the plaza as a significant gathering area. The wall is representative of both shelter and conflict.
Engraved in the plaza's stone threshold are the words "Inquire, Learn, Reflect." The inscription, agreed upon by the designer and Kent State University, affirms the intent that the memorial site provide visitors an opportunity to inquire into the many reasons and purposes of the events, to encourage a learning process, and to reflect on how differences may be resolved peacefully.
A progression of four polished black granite disks embedded in the earth lead from the plaza to four free-standing pylons aligned on the hill. The disks reflect our own image as we stand on them; the pylons stand as mute sentinels to the force of violence and the memory of the four students killed.
A fifth disk placed to the south acknowledges the many victims of the event. It implies a much wider impact, one that stretched far beyond the Kent Campus.
A 48-foot bench along the granite walkway provides visitors a place to rest and to view the memorial
---
Return to List of May 4 Memorials