Joseph Politella papers (faculty-Philosophy)
Special Collections and Archives
Joseph Politella papers (faculty-Philosophy)
Special Collections and Archives
Joseph Politella papers (faculty-Philosophy)
Joseph Politella, Papers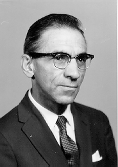 ---
Inventory
Prepared by Barbara Bass, Oct. 2, 1996
1 MSS box, 1/8 cubic ft., 11th fl.
---
Biography
Joseph Politella was born Sept. 20, 1910 in Italy. He received his B.S. degree in 1933 from Massachusetts State College, A.M. degree from Amherst College in 1935 and his Ph.D. from University of Pennsylvania in 1938. After retiring from the Air Force as a Captain in 1946 he began teaching philosophy courses at Kent State and continued until his retirement in 1973. He also served as a consultant to the Department of Eastern Religions.
He served as president of the American Academy of Midwestern Religion in 1970-71. He wrote numerous articles and was listed in Who's Who in America. He was also a member of the Royal Asiatic Society. Prof. Politella died in Jan. 1975.
Scope and Content
Several items of his class materials were given to the Dept. of Special Collections and Archives along with some of the articles that he wrote.
---
Folder Contents
Articles: "Bruno and His Muslim Predecessors,"The Serif, Vol. 5, no. 2, June 1967); "What Zen Buddhism is Bringing into Western Intellectual and Religious Life," The Serif, n.d.
Philosophy class materials
Philosophy class materials
Philosophy class materials