Ask Your Personal Librarian
Performing Arts Library
Ask Your Personal Librarian
Performing Arts Library
Ask Your Personal Librarian
Your Personal Librarian Staff: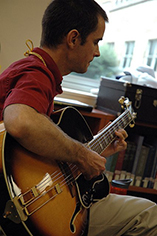 Joe Clark
330-672-1667
jclark88 [at] kent.edu
Office: Performing Arts Library, Center for the Performing Arts, Room D-004
Schedule an Appointment
---
What is a Personal Librarian?
The Performing Arts Library's Personal Librarian Program is designed to save you time and help you excel in college and beyond. Your Personal Librarian is here to help you get the most out of your library experience and is dedicated to help you succeed in your careers as artists and/or researchers.
Each Personal Librarian serves as your go-to person for questions related to library resources, services and academic projects. You are also encouraged to contact your Personal Librarian with any questions you have about your research or the library (of course, please feel free to contact any library staff member -- you are not limited to consulting with just your Personal Librarian!). How often you choose to avail yourself of your Personal Librarian is entirely up to you.
It's just another way the library is helping students take advantage of everything Kent State University has to offer!
How can my Personal Librarian help me?
Answer questions about library services, like borrowing digital cameras, citing sources, requesting materials from other libraries, renewing library items, and so much more!
Help you find your way around the library [Where is something? Who to talk to? Can I do this in the library? Is this available?]
Assist you in finding information for research assignments by helping you identify the best resources and formulate effective search strategies so that you can conduct your own research and prepare persuasive research papers [What databases to use? How to search for resources? How to organize your content? How to cite content?]. They can also connect students with library experts in different subject areas.
Connect you to university resources outside of the library.
Help you any time of year, even when you are on break or are a distance learner.