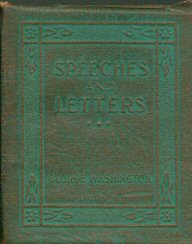 Little Leather Library Series Books, 1915-1923
Inventory
Prepared by Rhonda Rinehart, November 9, 2004; Additions made by Edith Serkownek, May 13, 2009
1 flip-top box, .20 cubic foot, 11th floor
---
Historical Note
The Little Leather Library was a series of miniature (3" x 3 3/4"), abridged leather-bound volumes of famous speeches and works by classic literary authors. The leather covers were uniform in style and color. They appeared in a dark brown leather cover with a green patina and were stamped with the title and author's name printed inside identical floral borders. The series was founded around 1914, and was originally sold through the Woolworth's five-and-dime chain before being made available through mail order. Relatively inexpensive, these volumes were sold in boxed sets of 30 for $2.98. Millions of copies were sold by Woolworth's, and it is estimated that between 35-40 million volumes were sold by mail. The series continued to be sold until 1923. Series founder Albert Boni went on to start the Modern Library, another series of mass-marketed books showcasing contemporary European and American authors that is still in existence today.

---
Scope and Content
This small collection contains twenty-seven volumes, and includes speeches and letters from American presidents George Washington and Abraham Lincoln. Also included here are works by Robert Browning, Lewis Carroll, Washington Irving, Rudyard Kipling, William Shakespeare and Alfred Tennyson. The inventory is arranged alphabetically by author's last name.
---
Box 1
Folder -- Contents
Barrie, J. M. The Tillyloss scandal.
Browning, Robert. Pippa passes.
Carroll, Lewis. Alice in Wonderland.
Carroll, Lewis. Through the looking-glass and what Alice found there.
Emerson, Ralph W. Uses of great men.
Hubbard, Elbert. A message to Garcia.
Ibsen, Henrik. A doll's house.
Ibsen, Henrik. Ghosts.
Irving, Washington. Old Christmas.
Kipling, Rudyard. At the end of the passage.
Kipling, Rudyard. The man who was.
Kipling, Rudyard. Without benefit of clergy.
Lamb, Charles. Dream children and other essays.
Lincoln, Abraham. Speeches and addresses.
Macaulay, Thomas Babington. Lays of ancient Rome.
Schreiner, Olive. Dreams.
Shakespeare, William. A comedy of errors.
Shakespeare, William. King Lear.
Shakespeare, William. Twelfth night.
Stevenson, Robert Louis. Will o' the mill.
Tennyson, Alfred. The coming of Arthur.
Tennyson, Alfred Lord. Enoch Arden and other poems
Tennyson, Alfred. Lancelot and Elaine.
Thoreau, Henry David. Friendship and other essays.
Tolstoy, Leo. The bear hunt and other stories.
Washington, George. Speeches and letters.
Wilde, Oscar. The happy prince and other tales.