Architecture Library
About
Architecture Library
About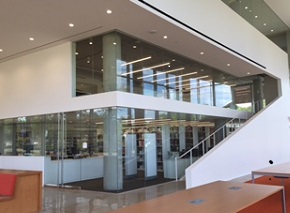 Joseph F. Morbito initiated the Kent State University architecture program in 1947.  Over the years he built the many resources supporting the School of Architecture, as it became one of the most important professional programs of the university.  Among resources he developed was the library.  He envisioned the facility to support the mission of the School and later the College of Architecture and Environmental Design.  The library focuses on acquiring materials for the study of architecture design, urban design, and interior design.  In 1987, the Kent State University Board of Trustees named the architecture library for the founder, proclaiming:
Be IT RESOLVED that in recognition of Mr. Morbito's continuing concern for the University and its students, and for his significant role in the development of the School of Architecture, the architectural library be designated, The Joseph F. Morbito Architectural Library.
Today, the Joseph F. Morbito Architecture Library serves over 700 undergraduate and graduate students providing access to a wide variety of print materials, journals, and electronic research databases.  Ever cognizant of its services to meet the research and educational requirements of faculty and students, the library continues to play an important support role for the College of Architecture and Environmental Design's mission.