Support Digital Initiatives
Support Digital Initiatives
Support Digital Initiatives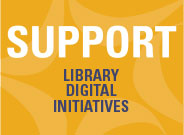 Kent State University Libraries Special Collections and Archives is the home to many unique, rare, and local resources that draw not only local but global interest! Digital projects, such as Digital Daily Kent Stater and the May 4 Digital Archive, allow us to provide access to rare materials that may have acute preservation problems due to age and fragility of their original formats. These initiatives also allow us to share these exceptional collections with our students, faculty, staff, and alumni--no matter where they are located. A gift to Support Digital Initiatives will help us provide electronic access to that which would otherwise only be viewable in person.
Your gift of any amount will be placed in a fund specifically designated for digital projects. Some examples of collections we are seeking to showcase include, but are not limited to:
Rare 19th century pamphlets and broadsides from the Borowitz Collection, featuring accounts of criminal cases of the day
Primary documents, photographs, and audio-visual materials related to the Kent State shootings--items from one of our most heavily used collections
Unique local history resources such as photographs, publications, and other historical materials from the Kent State University archives
---
Sample donation levels for the Digital Daily Kent Stater Project:
$25,000 allows us to digitize a full decade of the Daily Kent Stater--KSU's student-run newspaper since 1926
$2,500 allows us to digitize one full year of the Daily Kent Stater.
$50 allows us to digitize approximately one full issue of the Daily Kent Stater
If you share our passion for the preservation and accessibility of our Special Collections and Archives, please give today!