Welcome!
Welcome to University Libraries of Kent State University
No matter how you found us, welcome to Kent State's Libraries. You are why we are here. University Libraries want to help you wherever you are.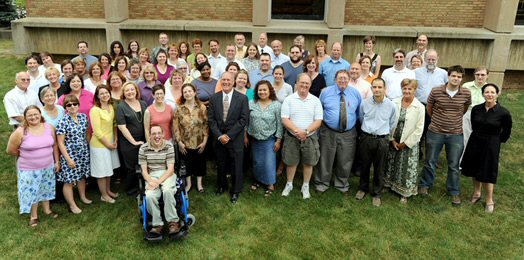 We can save you time and make a difference
We're physically big and we're virtually even bigger, but we're one system. We have fourteen locations in the eight-campus library system. All locations offer spaces where you can work alone or in groups, use print and electronic resources that support your work, and connect with library staff that can help you get whatever you need to succeed. Kent State's main Library houses core course materials and specialized research collections. Five branch libraries on the Kent Campus (Architecture, Chemistry/Physics, Fashion, Map, and Performing Arts) and seven regional campus libraries meet the needs of the disciplines and campuses they serve.
But wait, there's more
University Libraries is also a founding member of OhioLINK, the statewide consortium of college and university libraries that provides access to additional resources and rapid delivery of library materials throughout the state. Through Kent State's Libraries and OhioLINK, you are never more than a few clicks away from finding that you have access to 48 million printed books, millions of articles in 12,000 electronic journals, thousands of images, videos and sounds, and more.
And the Libraries will connect you to what you need
All you mostly ever have to do is ask for the books, journal articles, and other items that you may want. And it's free. Click here to learn how.
We can help you ace your courses and even have fun doing it.
University Libraries is committed to serving our students and insuring their success; helping our faculty to advance and achieve excellence in their teaching, creative, and research endeavors; and connecting with the world beyond our campuses. One of the nation's great libraries, we have a lot to offer you. Just check these out:
Assignment Calendar
This tool will help you schedule your time in order to complete your assignment on time.
Student Multimedia Studio
Here you can use a wide range of multimedia equipment, software and support to create presentations for course projects and more.
Personalized Research Consultations (PERC)
Term paper due? Speech coming up? Librarians can help and save you time too. Just make an appointment to get personalized assistance.
Library Coffee Cart
Featuring Starbucks coffee, expresso drinks and fresh pastries!
Ask a Librarian
Help is available no matter where you are: instant messaging, texting, email, phone, or in person. We're here to give you expert assistance.
Writing Commons
Go to the Writing Commons for help with any writing project. You can meet with writing tutors online or in person.
See how we are Planning for Space and Access in the future
Watch Dean Bracken's Powerpoint presentation on our vision for the future of University Libraries: Planning Space and Access
Kent State's Libraries are your libraries
We want you to explore and use Kent State's Libraries. You can always connect with us at www.library.kent.edu.
Or call us at 330-672-3150, instant message IMaKSULibrarian, or text us at 66746 (start your question with KENT).
I'd like to hear from you as well. If you have any concerns or questions, please call me at 330-672-2962 or send me an email: Jim Bracken .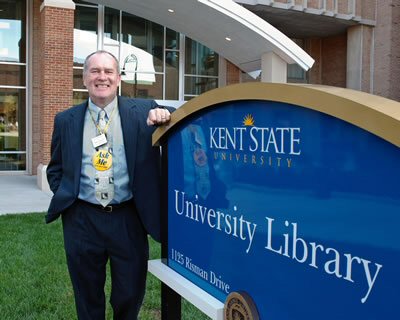 James K. Bracken
Dean of University Libraries