Introduction to University Libraries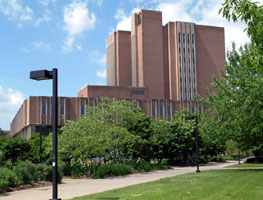 University Libraries, a member of the prestigious Association of Research Libraries, stands at the heart of Kent State University's education and research mission. It provides critical support for scholarly inquiry, bringing together diverse traditions of thought and belief.
Fourteen libraries compose the eight-campus library system, providing all university users access to a collection that includes both print and online resources. The main Library houses core undergraduate materials, as well as quality research collections needed by graduate students and faculty. Six branch libraries on the Kent Campus (Architecture, Chemistry/Physics, Fashion, Map, Mathematics and Computer Science and Music) provide highly specialized resources to meet the needs of the disciplines they serve. In addition, each library functions as a meaningful physical place where students can come to receive personalized assistance, to study and to work together on research projects.
University Libraries strengthens the learner-centered environment by providing a range of media production and presentation technology services in support of classroom teaching and research. Media professionals design and install instructional technology systems; offer quality videotaping of courses, lectures, presentations, athletic and special events on and off campus; and provide webcasting services.
University Libraries' role as a teaching-learning center is made more complex by the amount and type of information that is available, the technology needed to access and manage it and the skills required to be an effective information user. These demands stretch library collection, technology and staffing budgets and, at the same time, precipitate the need for new services and outreach to users.
Librarians and media professionals add value to the university's library resources and media services. A professional staff contributes to academic excellence by providing strong support for faculty research and the intellectual exploration of students. Alumni and friends who embrace the challenge of investing in the university's future can ensure that Libraries and Media Services will remain at the pulse of intellectual life at Kent State .