May 4 50: Long Live the Memory: 1960-63
Special Collections and Archives
May 4 50: Long Live the Memory: 1960-63
Special Collections and Archives
May 4 50: Long Live the Memory: 1960-63
Civil Rights, Black Power, and Anti-War Actions:
Orangeburg, Kent, and Jackson, 1960-1967
Jackson: 1960-1963
---
Orangeburg: 1960-1963
March 1960 - Orangeburg students from Claflin College and South Carolina State, held a protest march following attempted but unsuccessful sit-in demonstrations at Kress & Co. store and lunch counter. Other sit-in protests, marches, and demonstrations followed, including one involving a mass arrest of nearly 400 protestors. (Williams. Freedom & Justice, 144-145)
Below: "Claflin and State College students marching for freedom, March 1960." Photo by Cecil Williams. Freedom & Justice, page 147.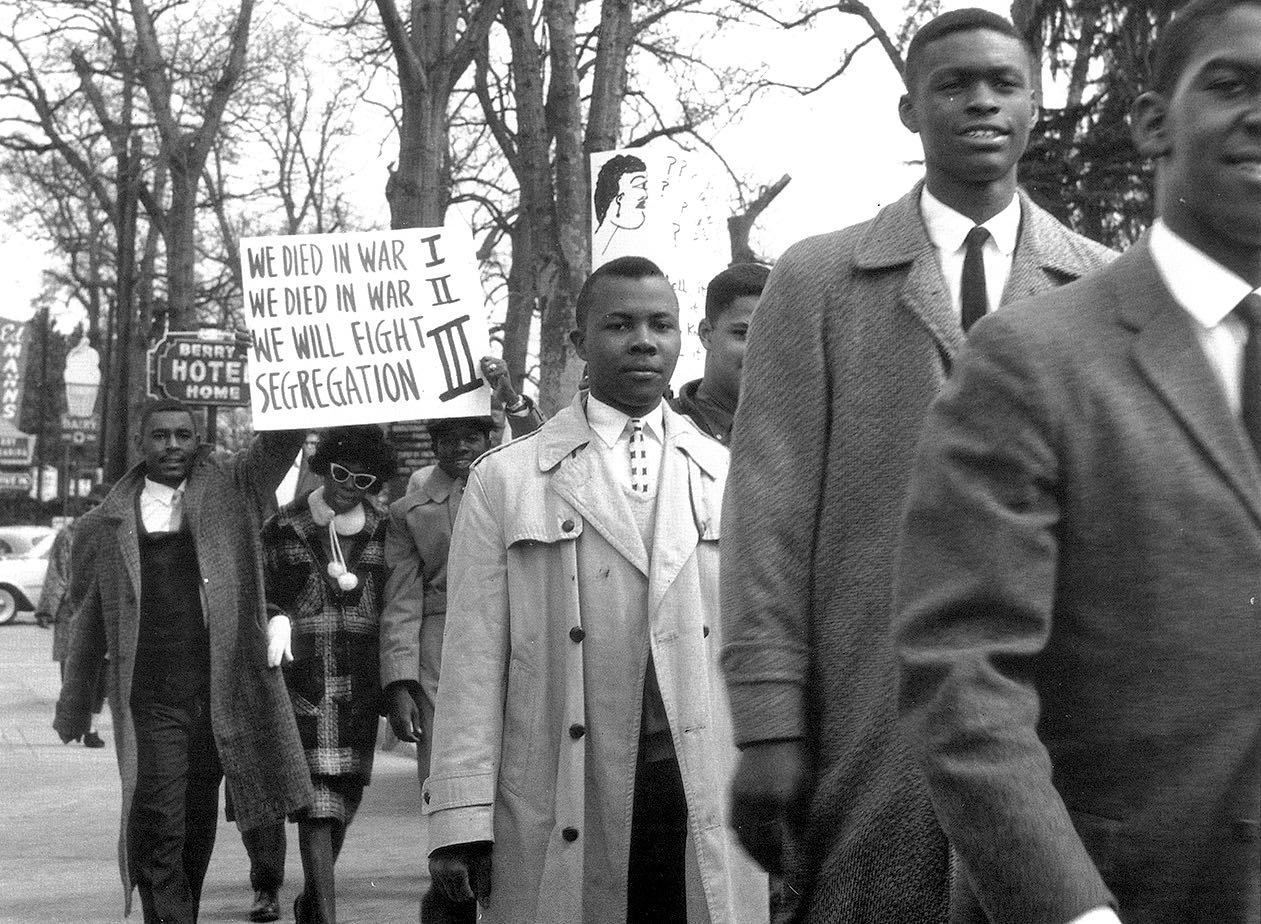 Below: "More than a thousand students join the march for freedom, March 15, 1960." Photo by Cecil Williams. Freedom & Justice, page 154.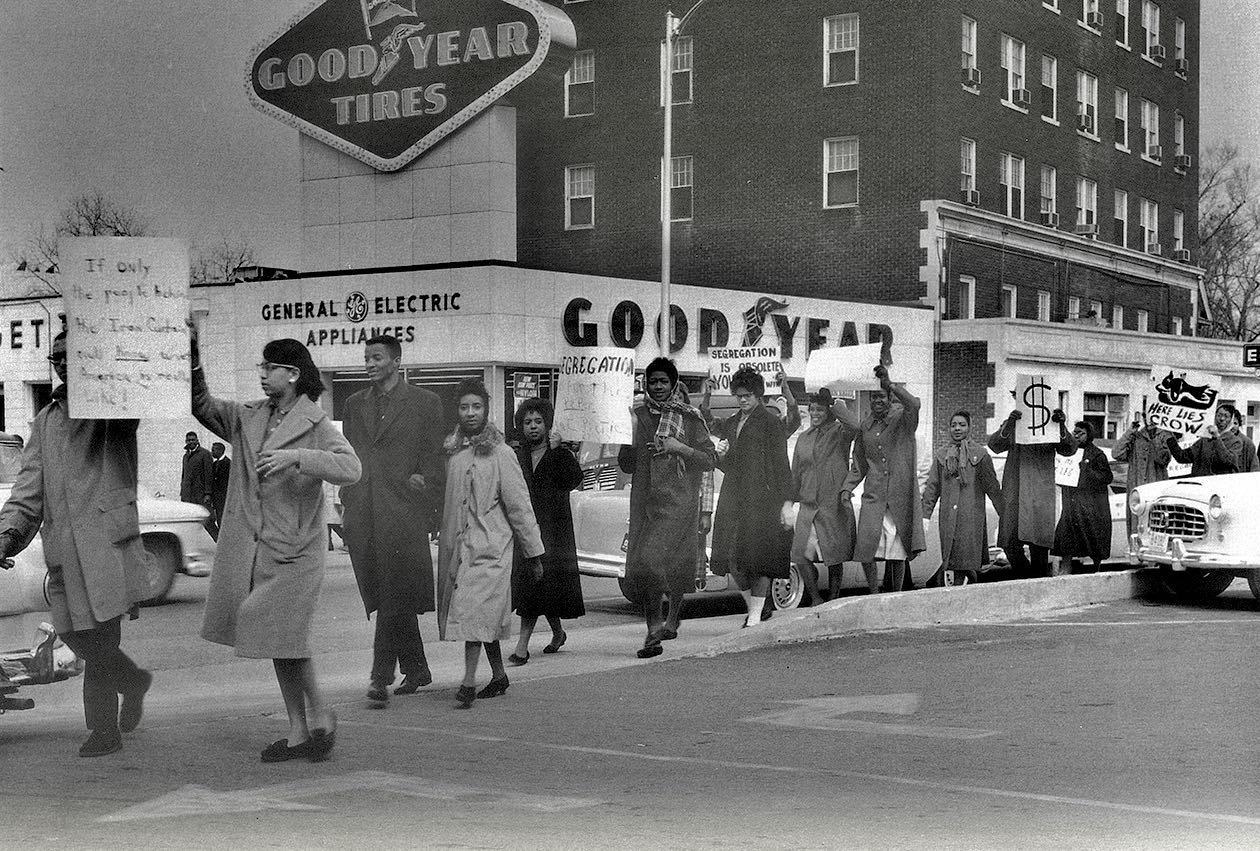 "The Orangeburg Freedom Movement was a magnificent example of a small community driven to mass action to achieve basic goals of freedom and dignity."  
-- Cecil Williams, Orangeburg, South Carolina, photographer and activist, author of Freedom & Justice: Four Decades of the Civil Rights Struggle as Seen by a Black Photographer of the Deep South.
1963 - Coalitions of students, teachers, clergy, business owners, and other citizens in the community staged a large number of "mass challenges" to Jim Crow throughout the year. (Williams. Freedom & Justice, 205-206)
Below: "Freedom marchers in downtown Orangeburg, Aug 23, 1963." Photo by Cecil Williams. Freedom & Justice, page 210.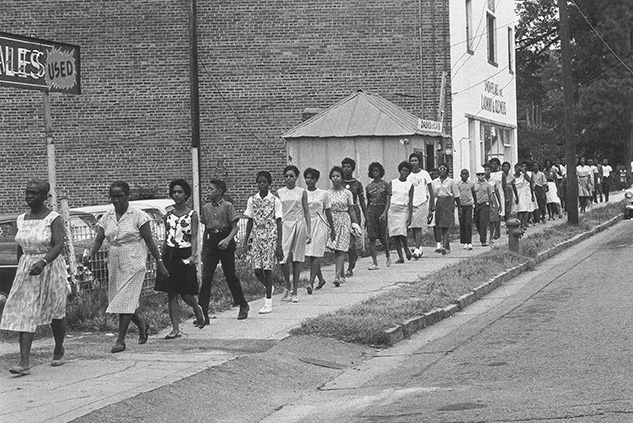 "The big year for demonstrations in Orangeburg was 1963. It was a boisterous demonstration, highlighted by singing and chanting."
-- John E. Brunson, former president of the Orangeburg Branch, NAACP.
---
Kent: 1960-1963
October 28, 1960 - 11 African American members of the Kent State Council on Human Affairs organization stage a sit-in protest at the Corner Bar in Kent, Ohio, for its refusal to serve drinks to Black patrons.
Below: Daily Kent Stater, November 1, 1960, page 1-2.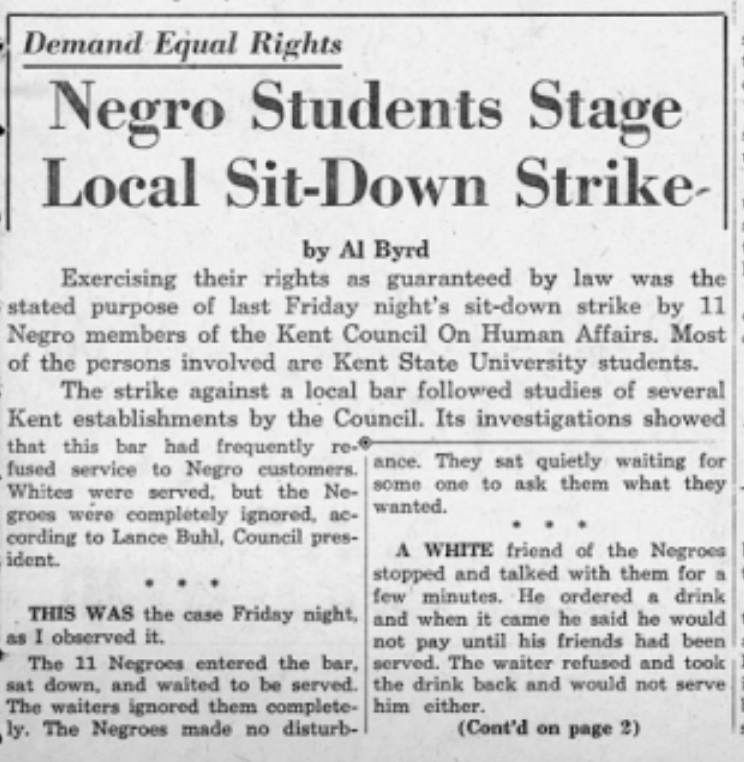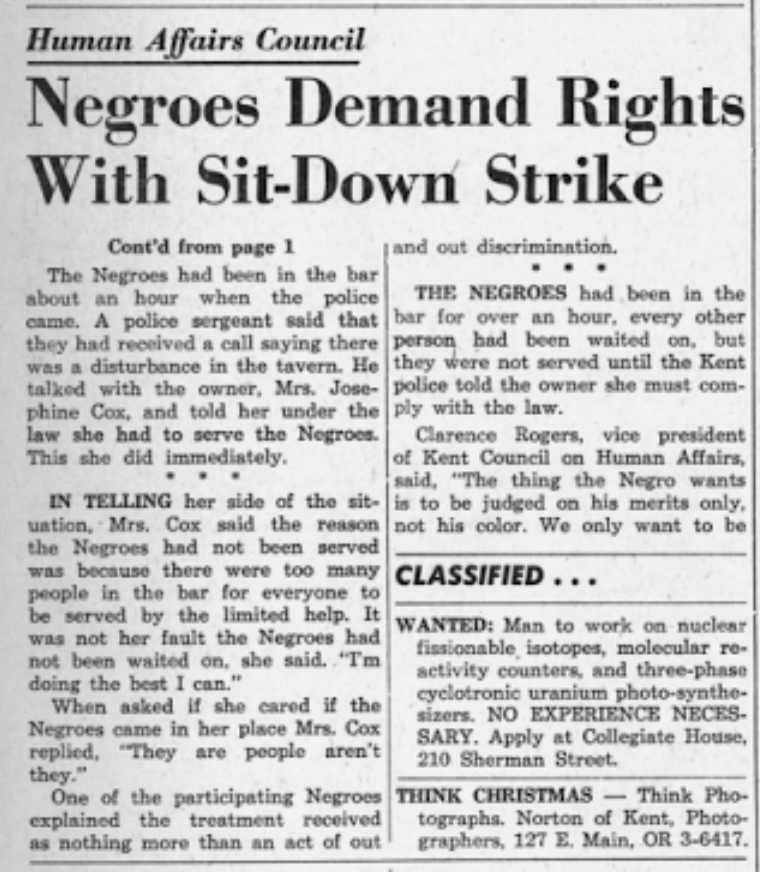 1960-1963 - Other protests during this period focused on segregated housing, redlining practices, and international nuclear proliferation. Organizations at Kent State that were active in relation to these issues were the Council on Human Affairs, Congress of Racial Equality (CORE), Kent Committee to End the War in Vietnam (KCEWV), Student Peace Union, and the Young Socialist Alliance. 
red-lining, n. : The action of red-line v.  (in various senses); esp. the action or practice of a bank, etc., in refusing to grant a loan or insurance to an area considered to be of significant financial risk, or offering these services at prohibitively high rates.
-- Oxford English Dictionary
Redlining is a form of institutional racism that effectively segregates cities and other communities. The practice also impedes access to home ownership by people of color.
These organizations and their members were monitored by the Kent State University Police and the university's administration, as would be the case with almost all such political organizations that had a presence on campus throughout the 1960s and 1970s. The University Police maintained membership lists, photographs of members and activities, and retained copies of flyers and publications as part of its surveillance of these organizations.
1961 - Council on Human Affairs member John McCann (later instrumental in organizing KSU's chapter of CORE) worked to raise awareness of the housing segregation problem in the City of Kent. On April 28, 1961, a letter in support of McCann and urging that Kent State leadership take an active role in helping to end segregation in off-campus housing in the City of Kent ran in The Stater. The letter was signed by several faculty members, including Oscar Ritchie, Kent State's first African American faculty member, appointed as an instructor in 1947.
Below: Daily Kent Stater, April 14, 1961, page 2.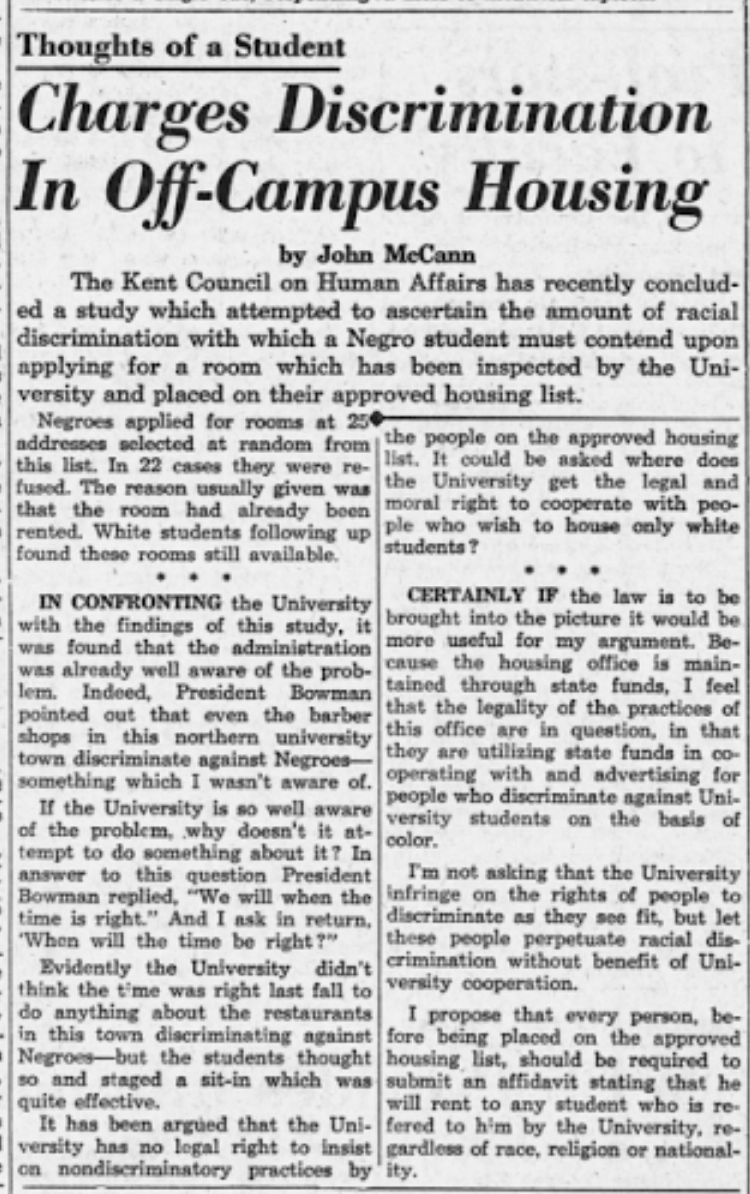 Below: Daily Kent Stater, April 28, 1961, page 2.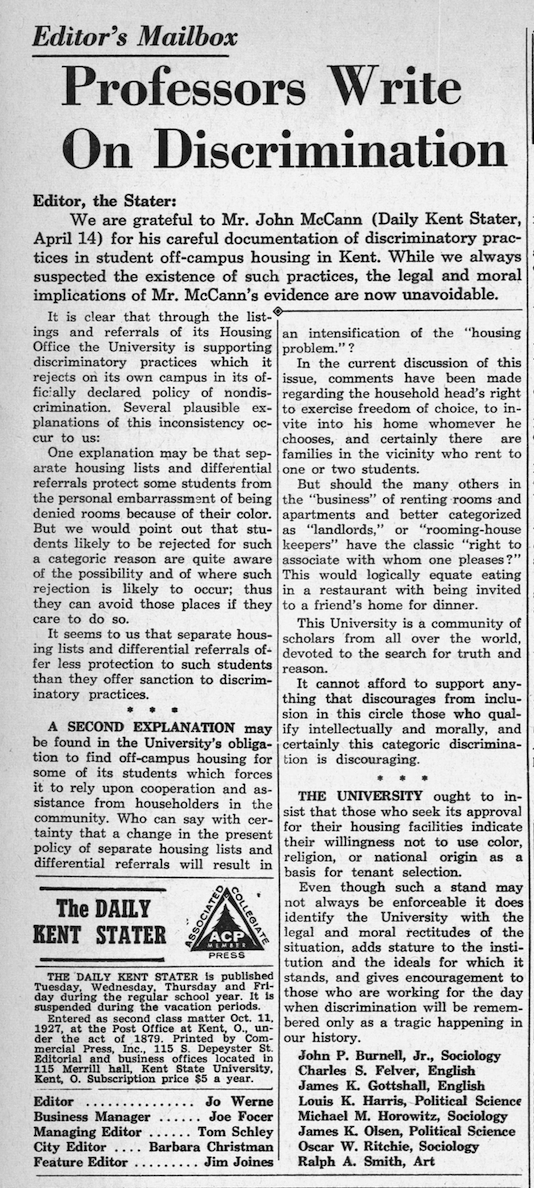 Other Council on Human Affairs students joined in the battle: Oscar Hearn and Lance Buhl organized a picketing event and met with President George Bowman about Kent's housing segregation problems later that spring.
Below: Cleveland Press photo of Buhl (left) and Hearn (right) at fair housing demonstration. Cleveland Press Collection. Michael Schwartz Library, Cleveland State University.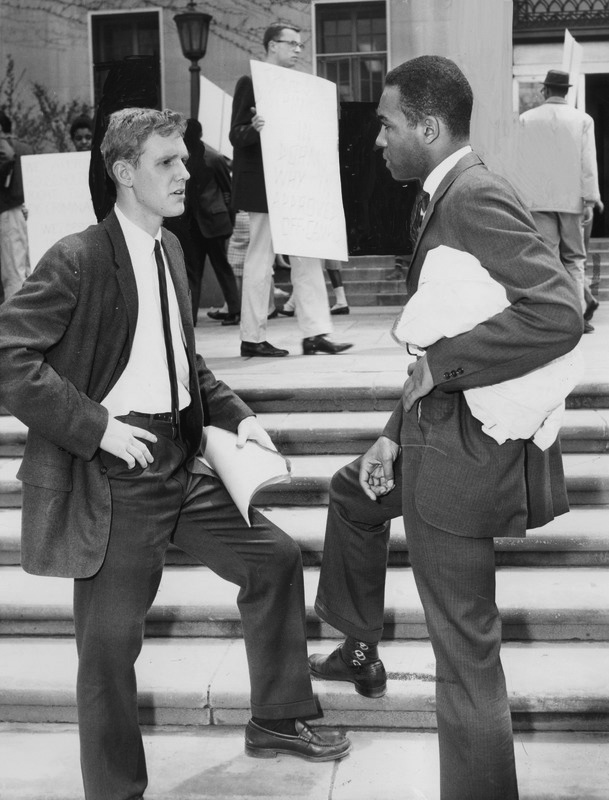 Below: Daily Kent Stater, May 11, 1961, page 1.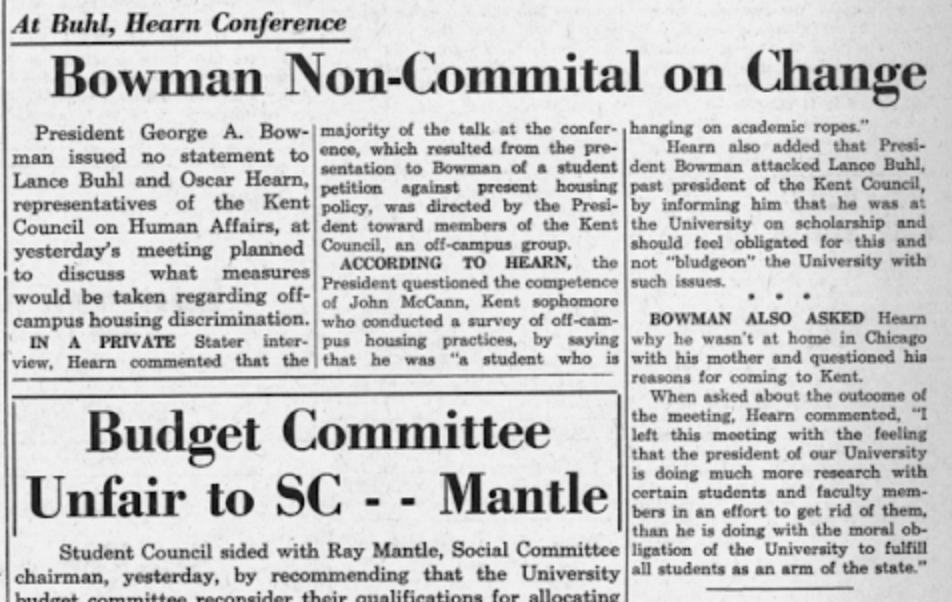 Below: Daily Kent Stater, May 12, 1961, page 1.