An Evening with DeLanna Studi
Tuesday, October 19, 2021 - 7:00pm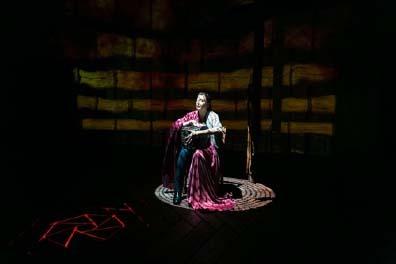 Event Location:
Wright Curtis Theatre Center for the Performing Arts, Kent State University
Host: Cynthia Connolly (The Lake Erie Native American Council)
An Evening with DeLanna Studi
In 2015 she wrote and staged And So We Walked, a one-person theatre piece about her ancestors' forced removal from their homelands, Murphy, North Carolina to Oklahoma—The Trail of Tears. To create this piece, Studi took a six-week trip, with her father Thomas Studie, to "retrace the path her great-great-grandparents took during the forced relocation" (from the homepage of And So We Walked). In Murphy, North Carolina, both DeLanna and Thomas held workshops and story circles to collect, share, and document their ancestors' stories and histories.

Studi's And So We Walked includes the multitude of stories that Studi collected. The piece is a dramatic expression of multiple voices of the people who were forced to walk—some perished, and some survived to reach Oklahoma due to the Treaty of New Echota. 

DeLanna Studi will talk about her journey to create this piece packed with her ancestors' spirits.