Reserve Request Individual Forms - Faculty and Staff Use
All forms are also available in print format at the Performing Arts Library desk.
PDF Document Forms - Download and print form.  Fill out the form as completely as possible to avoid any delays in processing.  May also type information into Adobe form fields and print completed form as a PDF.  Deliver or send an email attachment of the form to Amanda Evans at the Performing Arts Library.
Personal Material Responsibility Disclaimer Form - University Libraries cannot be held responsible or liable for mutilation or theft of instructors' personal materials. Reserves Services takes preventative measures against theft and mutilation of materials placed on reserve, which include barcoding, reserve tapes, and security measures that activate the Library's gate alarm system.
Information for Faculty
To ensure items are available, submit requests at least two weeks before you expect to assign the items.  This allows sufficient time to process the request, including time to recall items that are checked out.  All reserve requests will be processed in the order they are received.   It is your responsibility to be aware of copyright issues, and to read the KSU Library Reserves Policy.
Compilations of unidentified material cannot be placed on reserve without complete source and bibliographic information so that we can determine if the library owns a copy. 
Titles that are not in the KSU Performing Arts Library collection will be borrowed from other KSU libraries when possible or purchased after review by the Head of the Performing Arts Library.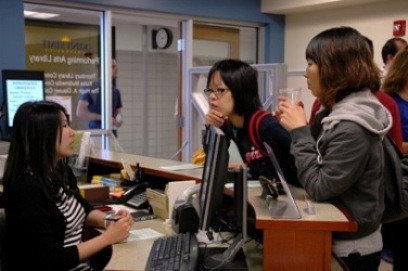 Contact Reserve Services
Amanda Evans, Performing Arts Library Reserves
330-672-1668  |  aevans8@kent.edu