Luminaries Program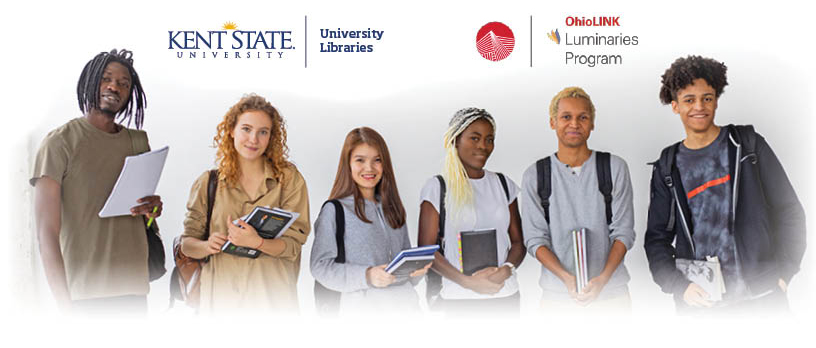 Kent State University Libraries is partnering with OhioLINK and university libraries in the state to participate in the Luminaries Program. The Luminaries program, which is a part of the OhioLINK Library Diversity, Equity and Inclusion Initiative, seeks to create and promote career opportunities in librarianship, information studies and data sciences to individuals from underrepresented populations and economically disadvantaged environments.
Working 10-15 hours a week (Mon-Fri between 8 am and 5 pm), in a paid, resume-building position offering hands-on experience, the student participants receive a broad introduction to the information studies profession—its purpose, its reach and its expertise. Students are paired with a mentor to explore librarianship, gain valuable knowledge in the field and develop marketable skills that are extendable to a variety of career disciplines. This program provides experiential learning, valuable training and professional support within a structured work environment. Kent State participants are given the opportunity to network and collaborate with other OhioLINK Luminaries around the state. A final reflective project will be required but will be discussed and agreed upon with the student's mentor.
Please note: previous experience is not required, and it is not necessary to applicants to be considering careers in information studies or librarianship to apply for this position.
The position requires a two- (2) semester commitment. It includes an orientation, departmental rotations and working closely with a mentor. Student participants are also expected to participate in professional development sessions that are coordinated by the library.
Participants will have the opportunity to experience different aspects of library and information services work, including many of the following:
Ensuring library materials are available for circulation and helping patrons find resources;
Supporting both in-depth research and more general reference questions;
Working with classes and groups to help them use information tools and resources more effectively;
Digitalization projects, software administration and integration with campus or vendor IT systems;
Preservation, archival practices and specialized collections; and
Supporting student and faculty needs around data management, data literacy and data visualization.
Minimum Qualifications
At least sophomore standing, with 2 or more semesters remaining; 
Provide the name and contact information for a reference who can speak to student's potential; 
Ability to commit to an internship for one academic year (fall/spring semester). 
Department & Pay Rate 
University Libraries
$11.75 per hour 
Work Schedule 
10-15 hours per week for one academic year. Typical work hours will fall between 8:30 am-5 pm, Monday-Friday, but may vary. 
For more information, please contact Jasmine Jefferson jjeffer1 [at] kent.edu (subject: Luminaries%20Program%20Question) .
POSTING CLOSES AUGUST 25TH -

APPLY TODAY!