Behind the Brain
Sculptor/Creator – Brinsley Tyrrell
Date –1999; dedicated in 2000.
Medium – cement and sandstone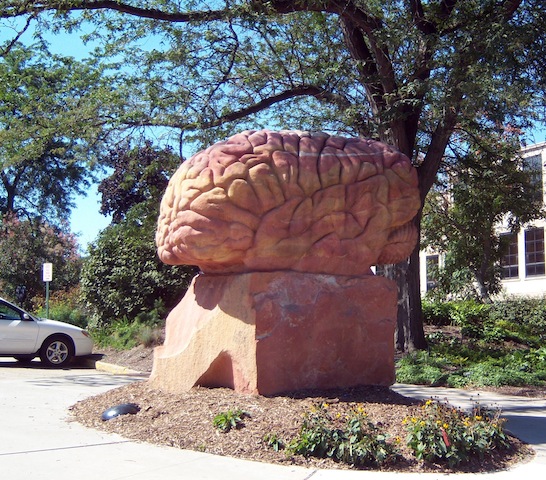 Background –
This "interactive" sculpture was created by former School of Art sculpture professor Brinsley Tyrrell. The most noticeable part of the multi-faceted project is the 13-foot-tall sculpted brain that faces Terrace Drive and the back entrance to Merrill Hall. The spinal nerve of the brain flows into the ground and leads to a plaza containing a small fountain, a smaller brain, benches and sculpted books lining the bookshelf walls. "My first idea for it was that we needed to build a wall bank to shut out all the traffic," Tyrrell said. "Eventually that bank became the library of books, and from the books evolved the brain, called The Seed of Inspiration." Tyrrell said the sculpture is meant to evoke an idea as well as provide a functional space. "The idea behind the plaza is knowledge feeding the brain and great ideas coming from that," he said. "With my piece, I tried not to just create a sculpture, but to create an environment that would be nice to sit in and nice to work in." Professor Tyrrell has executed a number of projects in Ohio in a variety of media, including metal.
References –