Wick Poetry Corner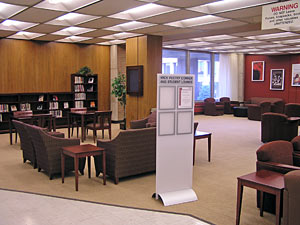 The Wick Poetry Corner is on the second floor of the Main Library, adjacent to the Student Lounge. It has been made possible through the vision of Provost Paul Gaston and his wife Eileen. Its purpose is to increase the visibility of the Wick Poetry Center in a more central location on the Kent campus and to create a quiet reading and study space to house the Tyler Lee Gaston Poetry Collection of twentieth and twenty-first century poetry books. The books in this collection have been donated by individuals or purchased with funds from the generous donors to the endowment in memory of Tyler Lee Gaston. The books in the Corner are available for regular check-out.

Tyler Lee Gaston (1980-2004) was a senior English major at Kent State University at the time of his death. He participated in the Wick Poetry Center Outreach Program teaching poetry to students at Miller South for the Visual and Performing Arts in Akron. Tyler was also a gifted poet himself, as well as an artist and a musician. He was a student worker in the Kent State University library and had planned to pursue a Master's degree in Library Science after his graduation.

The Wick Poetry Corner and the Tyler Lee Gaston Collection will serve Kent State University students for years to come as a gathering place for those who love poetry and who love libraries.