PERC Personalized Research Consultation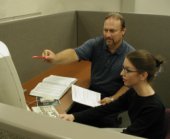 Term paper due? Speech coming up? Librarians can help!
Kent State students working on term papers, speeches, and other projects can get expert help from librarians through PErsonalized Research Consultations (PERCs).
PERCs are...
30-60 minute, one-on-one sessions with a librarian.
PERCs offer...
help identifying and locating needed information resources for papers and projects, including searching databases and retrieving and evaluating information.
Architecture, Fashion Design, Performing Arts and students needing subject specific help...
You are encouraged to call the branch librarian for your college for research help.
Architecture Library 330-672-2876
Chemistry/Physics Library 330-672-2532
Fashion Library 330-672-9500
Map Library 330-672-2017
Performing Arts Library 330-672-2004
Regional Campus students...
Please contact your campus librarian for research help.
Ashtabula 440-964-4239
East Liverpool 330-382-7401
Geauga 440-834-3722
Salem 330-337-4213
Stark 330-244-3330
Trumbull 330-675-8866
Tuscarawas 330-339-3391
Graduate students needing in-depth research...
To arrange for a PERC at the University Library...
schedule an appointment online (your FlashLine email address and password are needed),
visit the Reference Desk in the Main Library,
or call 330-672-3150.
schedule your appointment at least two days in advance.
provide all pertinent information about your assignment when making the appointment.
Please Note:
PERCs are only open to Kent State students, faculty and staff.
PERCs cannot be required of students in a course; no vouchers will be provided for PERC sessions.