Hours
Summer & Intersession
Tuesday, 11 a.m. - 7 p.m.
Wednesday, 11 a.m. - 7 p.m.
Thursday, 11 a.m. - 7 p.m.
Other hours by appointment
Fall
Tuesday & Wednesday,  11 a.m. - 9 p.m.
Thursday & Friday, 11 a.m. - 7 p.m.
Saturday, 11 a.m. - 5 p.m.
Other hours by appointment
For more information contact Spark at 330-672-3679 or KentStateSpark@gmail.com.
Location
Spark is located in Rooms 191 and 192 of the Schwartz Center (formerly the Glass Studio workshop.) Direct access to Spark is available from the parking lot close to the intersection of Summit and Morris Road, across from Satterfield.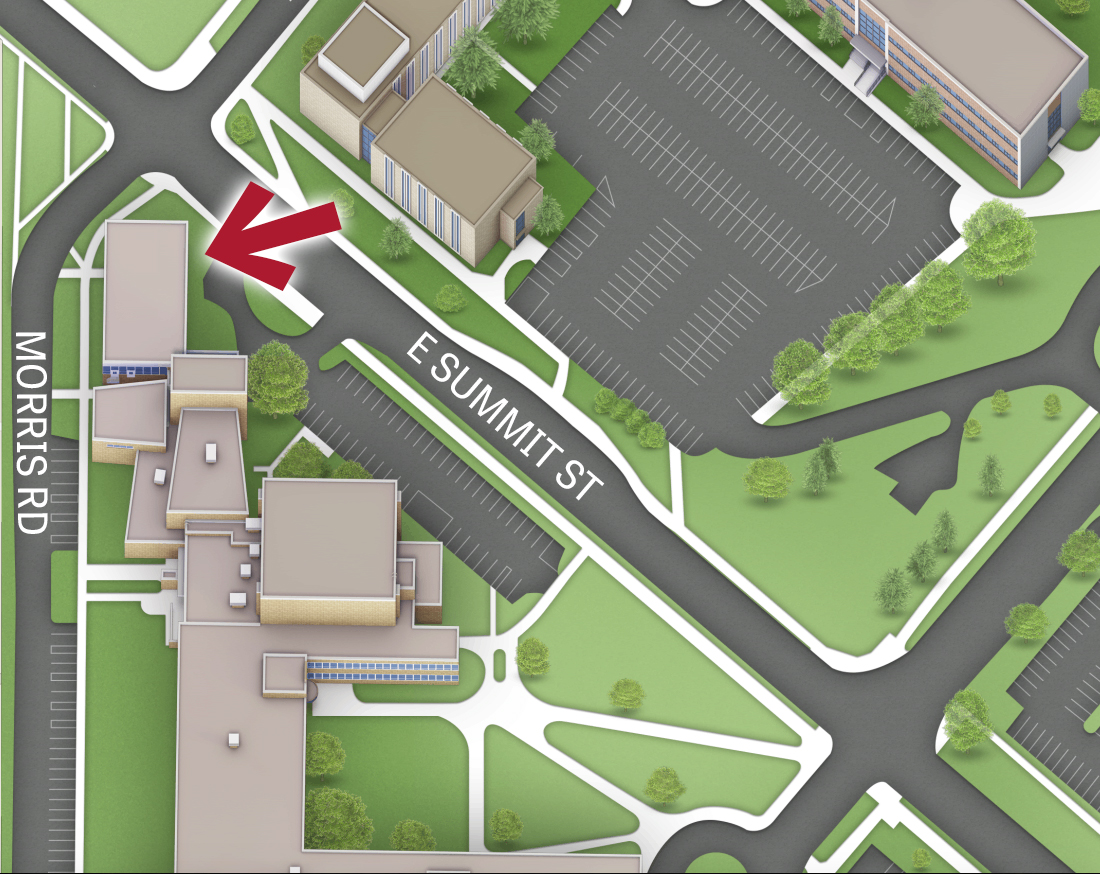 Parking
The Schwartz Center is located on the corner of Morris Road and Summit Street. Visitors to the Schwartz Center can obtain a temporary permit by stopping at the booth located in the R12 parking lot. Please be advised that campus parking at both the Student Center and Schwartz Center changed over the summer of 2016. Visitor parking for Schwartz is located in the Campus Center C lot or across the street at the Student Center. For more details on parking, visit the Parking Services website. For additional information on the construction and its impact on driving and parking in the area visit the Summit Street Improvement Project website.
Access
The makerspace in Spark Innovation Studio is open to all Kent State students, faculty and staff. For details on how to get started using Spark visit the Makerspace Access & Equipment page. We welcome inquiries from the community.
The project studio space is available to approved student project teams on a semester by semester basis. For more information, either stop in during open hours or contact Spark at KentStateSpark@gmail.com for other hours by appointment.
Project Space
Current projects underway:
To inquire about current projects contact Spark at 330-672-3679 or KentStateSpark@gmail.com. To be considered for a future assignment in Spark's project studio space, please email Ken Burhanna (kburhann@kent.edu) with a description of your project and contact information for your faculty contact.
(In case the calendar does not display properly above, visit the SPARK Calendar on TeamUP.)