Ye Olde Cemetery Records, Rootstown, Ohio
Special Collections and Archives
Ye Olde Cemetery Records, Rootstown, Ohio
Special Collections and Archives
Ye Olde Cemetery Records, Rootstown, Ohio
Ye Olde Cemetery Records, Rootstown, Ohio: 1809-1936
---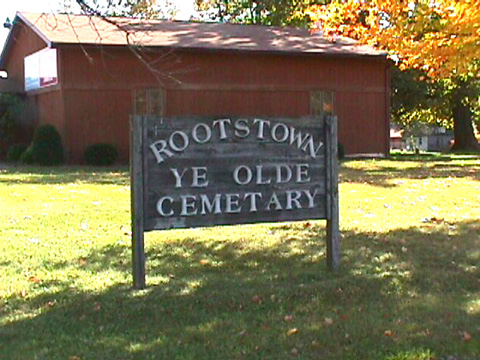 Inventory
Prepared by Barbara Bass, Jan. 30, 1999
1 Document case, 1/8 cu. ft., 11th fl.
---
Historical Background
A draft listing of this collection was given to the Special Collections and Archives Dept. by Nancy Stewart in 1987. The remainder of the collection was given to Special Collections and Archives in 1998. Nancy Stewart, Sr. Vice Commander of DAV Auxiliary Unit 26, Ravenna, Ohio, compiled a list of cemetery records based on records that had been made by Ernest H. Moore for the Western Reserve Historical Society in 1929 and her visits to the cemetery to read the headstones.
The Old Cemetery is located in Rootstown, Ohio on the south side of Tallmadge Road about 1 mile East of the intersection of State Route 44 and Tallmadge Road. During the 1980's the Rootstown Lions Club donated the sign that stands in front of the cemetery.
---
Scope and Content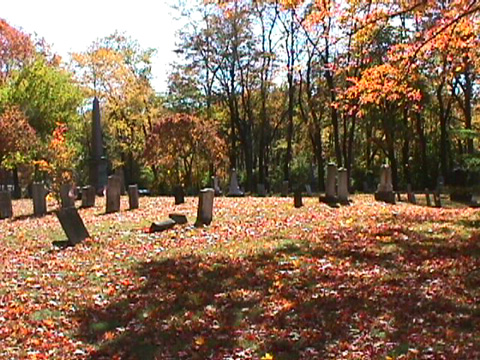 The collection includes correspondence, information about Nancy Stewart and various listings of those buried in the Old Cemetery including the veterans of several early wars. Also included are photographs taken of the cemetery in 1987. They show not only some of the beautiful headstones that have been placed at the graves but also the damage that has been done to some of the very old headstones.
---
Correspondence: George Hing to Nancy Stewart: Oct. 27, 1987
Nancy- An Autobiographical Sketch: May 14, 19[88] 38
Draft list of Old Cemetery: 1987
Old Cemetery-Rootstown, Ohio, Family Name Research: Sources of information: May 8, 1988
"American Revolution Veterans," report of the Ohio Genealogical Society: Aug. 1969
American Revolution Verterans buried in Rootstown: Dec. 16, 1773-Oct. 18, 1781
War of 1812 Veterans buried in Rootsown: June 1, 1812-Jan. 8, 1815
Civil War Veterans buried in Rootsown: April 12, 1861-April 9, 1865
Plat map of Old Cemetery made by Nancy Stewart: 1987
Photographs of Old Cemetery: 1987
Chronological order of deaths: Feb. 13, 1989
Family name research for Old Cemetery
Old Cemetery listings: Inscriptions copied for the Western Reserve Historical Society by Ernest H. Moore: 1929
Article: "Rootstown History" from Laurie Collection
Articles: "History of Rootstown Township" by Grace Lumley Horton; "Postmasters of Rootstown"; "Rootstown In the Wars" by Charles H. Parsons; "Township Officials"; "Justices of the Peace"
Speech: "Is Old Cemetery an 'historic cemetery'", by Nancy Stewart given at the Rootstown Historical Society meeting: May 16, 1988
Flyer: "Veterans, you are America"
Dedication booklet, written by Nancy Stewart
Speech: "Old Cemetery 2002" by Nancy Stewart
---
Return to List of Special Collections
Return to Regional Historical Collections (text only index)