University Libraries Remote Computer Lab
University Libraries Remote Computer Lab
University Libraries Remote Computer Lab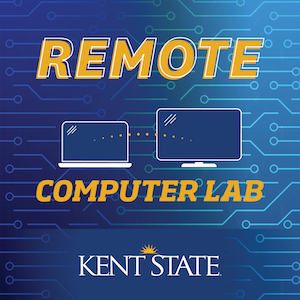 Welcome to the Kent State University Remote Computer Access portal. This tool will allow you to connect to any available computer in the Library's first floor computer lab (as well as other computer labs around campus). Connecting will allow you to use any of the software available on those computers including SPSS, SAS, Adobe CC, and others. Both Dell/Windows and Apple/macOS computers are available. A high-speed connection is recommended for an optimal user experience.
View and connect to available remote computers
Instructions for connecting to remote computers
The FortiClient VPN is required to connect to computers in the remote lab.
To connect to a Windows lab computer, you will need to use Microsoft Remote Desktop. If you are connecting to a Windows lab computer from a Windows computer, you do not need to install any special software (Microsoft Remote Desktop is already part of Windows). If you are using macOS you will need to download and install the Microsoft Remote Desktop application from the macOS App Store. Due to security limitations, connecting to a macOS computer from a Windows computer is not supported.
Using Addobe CC through our remote computer lab? Remember, you must log into the Abode Creative Cloud in order to use the applications.