My Departmental/Dorm Delivery
My Departmental/Dorm Delivery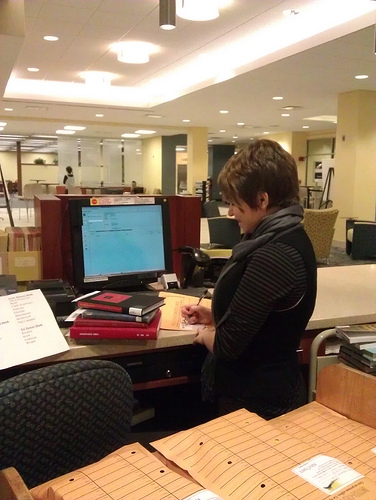 University Libraries offers delivery of books and other library materials to the Kent Campus offices of Faculty, Staff, and Teaching Assistants, and to the dorms of Kent Campus students.  Select "Kent - My Departmental Office/Dorm" as your Pick Up Location when requesting books on KentLINK

  OhioLINK

or SearchOhio.  If you order something from ILL, and would like the item delivered to your Departmental Office/Dorm, please contact Jason Prufer at jprufer@kent.edu or via the phone at 330-672-1847 once you receive the email that it has arrived at the Kent State Library.
These items will be checked out to you and delivered to your department's office location or your dorm's mail pick-up location.  Deliveries will be made Monday through Friday, once per day.  Materials will arrive in mail envelopes, brown paper wrapping, or boxes, depending on item size.
In order to ensure we have the correct departmental address location, we invite faculty, staff, and students to check on or update their Business Address information on FlashLine

as needed. Complete directions on how to update the proper business address can be found here.
Departmental mailroom areas vary across campus.  Your materials may not fit inside your personal mailbox but may be placed with other larger packages in the designated area in your department.
A small amount of loan period time will be lost while materials are in transit, typically no more than 72 hours (there is no delivery on Saturdays, Sundays, holidays, and other days when the University is closed). For this reason, you may wish to pick up items with short loan periods, such as videos and DVDs.
Materials will not be picked up for return to the Libraries.  Borrowers may return materials to the Main Library or any of the Branch or Regional Campus locations.  Borrowers may return materials through Campus Mail at their own risk; items will not be taken off your record until the actually arrive at the circulation desk, and the library cannot be responsible for items lost in the mail. 
If you are a distance learning student, see Book Delivery to Distance Learners.
Please contact Jason Prufer at jprufer@kent.edu or via the phone at 330-672-1847 with any questions about My Departmental Office/Dorm Deliveries.