Help us showcase University Libraries through your lens!
Help us showcase University Libraries through your lens!
Snapshot Day at University Libraries
Help us showcase University Libraries through your lens!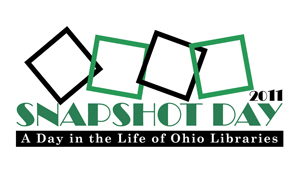 During the week of November 13-19, the State Library of Ohio is sponsoring "Snapshot Day 2011". The event invites libraries across the state to document an average day at the library through photos. The goal is to showcase how vital libraries are to local communities. 

University Libraries has selected Thursday, November 17 as our official day to participate. On this day we invite you to send photos to us that highlight your library experience. University Libraries will tweet photos throughout the day under our twitter handle, @KentState_LIB. Afterward we will upload all of the images to a statewide Snapshot Day set on Flickr.
How to get involved
Who can participate:
everyone on the Kent campus - students, faculty, staff, patrons, etc. 
open to all Kent campus library branches
How to submit your photo:
Send image to ksulibraries@gmail.com (photos from mobile devices are accepted)
Include a short caption and your name (or anonymous if you prefer not to be credited)
Fill out the Photo Release Form (if the focus of your photo is an identifiable person) and drop it off at the poster on the 1st floor (click here to download a printable version of the form)
Photo examples:
The view from behind Circulation
Students learning in the Math Emporium
Buying a beverage at the coffee cart
Librarians interacting with students at the reference desk
Checking out the view from the 12th floor
Notes:
The University Libraries Communications Office has final approval of photos that will be published
Don't forget to get permission from your subjects using the Photo Release Form
Photo Release Forms are only necessary if the focus of your photograph is of an identfiable person
Photos taken of subjects without signed permission will not be published
For more information, visit our Photo Release Form page
 
Send questions to Hilary Kennedy or Diane Sperko.

We look forward to seeing University Libraries through your eyes!
For more background behind Snapshot Day, visit the State Library of Ohio's page about the event.