Follow Us On:
May 4 Collection
May 4 Digital Archive (Kent State shootings)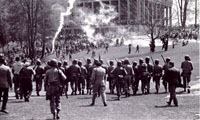 The May 4 Digital Archive contains selected materials from the May 4 Collection that have been put into digital form. The digital archive is currently comprised of photographs from the May 4 Collection.
Materials will be added on a continuing basis. If you do not find an item you are seeking or have any questions or comments about the digital archive, please contact Special Collections and Archives.
Search the Digital Archive:
Browse the Digital Archive:
Related Materials: