Faculty Recognition Program - Fall 2011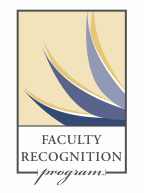 To recognize faculty who have received tenure and/or promotion in the 2010 academic year, University Libraries held a Faculty Recognition Program on October 20, 2011, in conjunction with the October 20, 2011 gathering of the Faculty Club. All university faculty, especially those honored, were encouraged to partake in this evening of food, friends and conversation.
We invited those faculty who have received tenure and/or promotion within the last year to submit the title and bibliographic information for a book to be book-plated in their honor. We also invited faculty to describe briefly the selected work's significance to them personally or to their success. The selected titles were on display at the reception as well as listed in a commemorative catalog. The selected titles will be featured in a public exhibit in the University Library following the event.
Images from previous Faculty Recognition receptions