Call for Student Scholarship Posters
Research and Sponsored Programs, Graduate Studies and University Libraries invite undergraduate and graduate students to submit posters and creative works for the student scholarship session that will be on display during the Celebration of Scholarship events beginning April 15 through May 13. We are asking that college deans from each of the following colleges select up to five students from each college to submit posters or creative works for display in the Main Library building during this time.
Architecture and Environmental Design
Arts
Arts and Sciences
Business Administration
Communication and Information
Education, Health and Human Services
Nursing
Public Health
Technology
Posters should be a maximum of 3 feet wide and 4 feet tall. The posters will be printed and mounted for the students and displayed Friday, April 15 through Friday, May 13, 2011. The selected 5 students from each college may submit the finished poster file (preferably PDF or PowerPoint format) to Elizabeth Traina, and she will follow up with the students if she has questions. Those students hoping to display creative works should contact Diane Sperko. Performances may be submitted (up to ten minutes), and they will be performed on April 15, 2011. Posters and creative works should be submitted no later than 5:00pm Monday, April 4, 2011. All participants will receive a certificate of participation. All posters and creative works will be published on the Celebration of Scholarship website. If you have any questions, please contact Diane Sperko.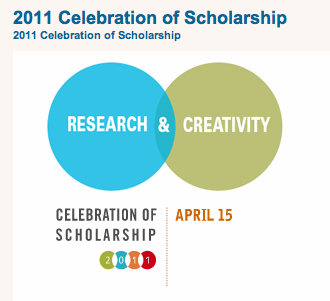 Click for details about the Celebration of Scholarship