May 4th Memorial
Sculptor/Creator – Bruno Ast
Date – May 4, 1990
Medium – Granite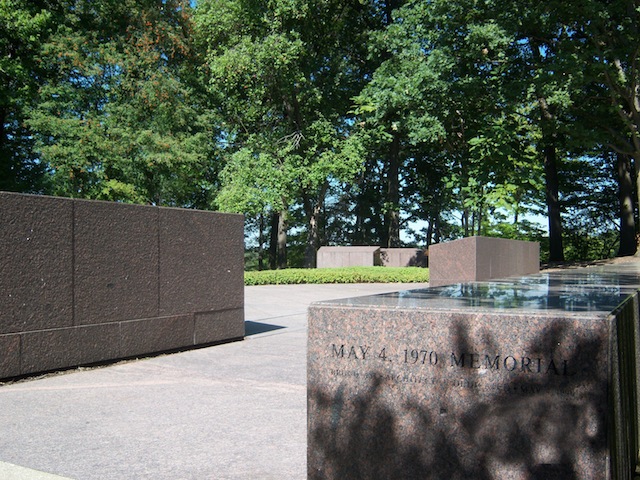 Background –
The May 4 Memorial is located on a two-and-one-half acre wooded site overlooking the Commons. Under President Michael Schwartz's leadership, the May 4th memorial was planned. The National Endowment for the Arts funded partially, a grant for a nationwide design competition. Although a Canadian won first place, he was disqualified because of his nationality. Bruno Ast, a Chicago architect, was the first runner-up and received the commission. Because of the limited private funding available for the memorial's execution, Ast was required to scale back his original plan. It was dedicated May 4, 1970. The memorial has a number of formally integrated components. A granite plaza, measuring 70 feet wide, rests on the crest of the wooded hillside adjacent to Taylor Hall overlooking the Commons. Bound by a granite sidewalk and bench to the east; to the north, a series of four black granite disks lead from the plaza into the wooded area where four free-standing pylons are aligned on the hill. The serene memorial built in the natural setting of the hillside commemorates the events of May 4, 1970, when four students were killed and nine were wounded during an antiwar protest on the Kent State University campus. Engraved on a plaque near the sidewalk north of the memorial are the names of the four students killed and nine wounded on May 4, 1970. The plaque reads, "In loving memory of: Allison Krause, Jeffrey Miller, Sandra Scheuer, and William Schroeder. Respectfully remembered: Alan Canfora, John Cleary, Thomas Grace, Dean Kahler, Joseph Lewis, Donald McKenzie, James Russell, Robert Stamps and Douglas Wrentmore."
Engraved in the stone floor where visitors step onto the plaza are the words "Inquire, Learn, Reflect."
Purpose -
The words inscribed in the May 4 Memorial, "Inquire, Learn, Reflect," were first used in 1984 when the May 4 Memorial Committee, established by President Michael Schwartz and the Kent State University Board of Trustees, decided a memorial should be built. The committee emphasized that the site should present visitors with the opportunity to inquire into the many reasons and purposes of the events that led to the killing and wounding of students on May 4, 1970, and to encourage a learning process to broaden the perspective of these events. The site should encourage visitors to ask what differences were confronting this community and this nation at that time and to reflect on how those differences may have been resolved peacefully.
References -