Performing Arts Library Group Listening/Viewing Rooms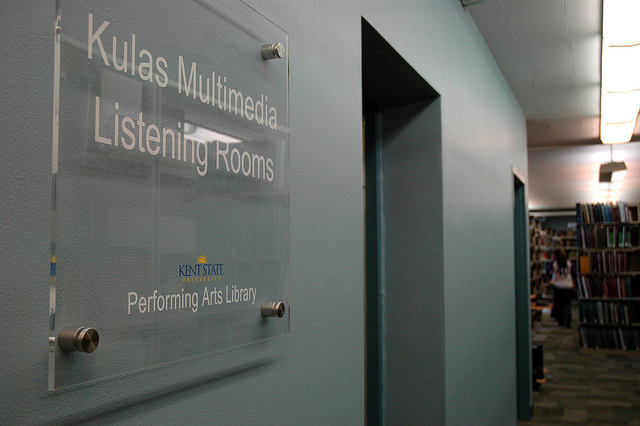 The Group Listening/Viewing Rooms check out for 2 hours, and can be reserved in advance. Rooms are available on a first-come, first-serve basis unless reserved, and seat no more than four.
Equipment Available:
Flat screen television (30 in.)
PC (click here for a list of software)
CD/Cassette Tape Player
DVD/Blueray Player
VHS Tape Player
Turntable (PAL1 only)
To schedule and Group Listening/Viewing Room:
Open The Scheduler and log in using your Flashline email address and password.
Click on the date and time you would like to reserve a room (PAL1 & PAL2 are the Performing Arts Library Rooms).
Complete the form and click "Sign Up."
You will receive an email at your kent.edu address with the details of your reservation.
To log out of the website, click on the "Personal" navigation box near the top of the screen.
To check-out a Group Listening/Viewing Room:
Arrive at the Performing Arts Library Circulation Desk at your scheduled time with your Flashcard ID.
Things to consider:
Your group may consist of 1 to 4 people.
You may schedule rooms until 5pm the day before on Tuesdays through Fridays and before 5 p.m. on Fridays for use on Saturday, Sunday, or Monday.
The schedule for the day is posted between the Group Listening Viewing Rooms in the Performing Arts Library.