SPSS Weighting Cases Screenshot Tutorial
Cases are weighted when the sample sizes for a particular variable (e.g. gender) are disporportionate to the population. For instance, if we have a sample that includes 46% females and 54% males but the population from which that sample was drawn contains 30% females and 70% males, we might opt to weight our data to adust the distortion in the sample. We would begin by calculating the weighting factor. This is done by determining the proportion of the respective group in the population divided by the proportion of that group in the sample.
Weighting factor = % of population / % of sample
In our above example:
Weighting factor for male = 0.70 / 0.54
Weighting factor for male = 1.30
Weighting Factor for female = 0.30 / 0.46
Weighting Factor for female = 0.65
Once we have determined the Weighting factor, a new variable can be created. This is done most easily by writing a simple script.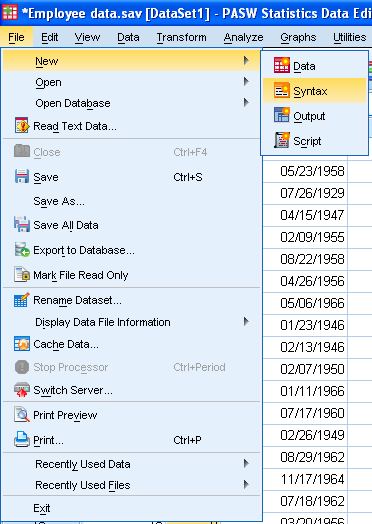 Select File -- New -- Script.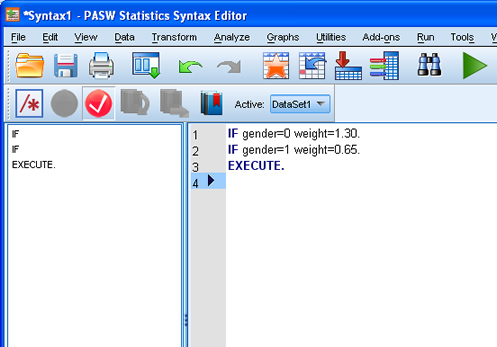 Type a similar script as the one you see above.
Click Run -- All.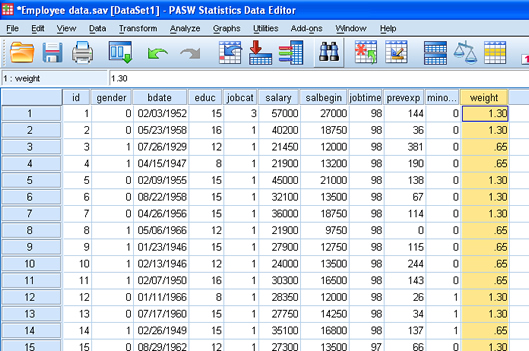 A new column is created in your data sheet with the appropriate weights.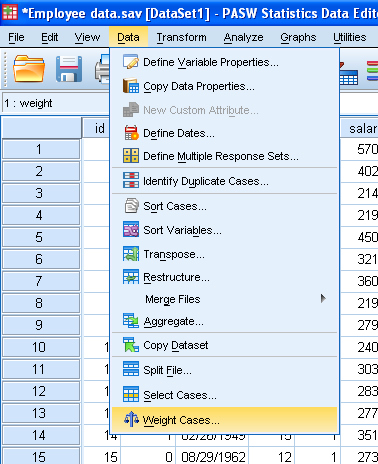 Click Data -- Weight Cases.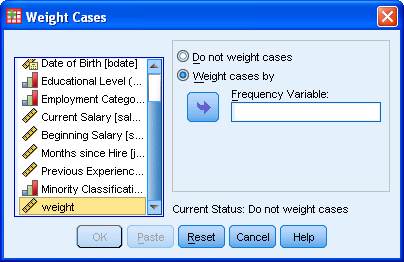 The above window will pop-up. Click "Weight cases by" and choose the "weight" variable you just created.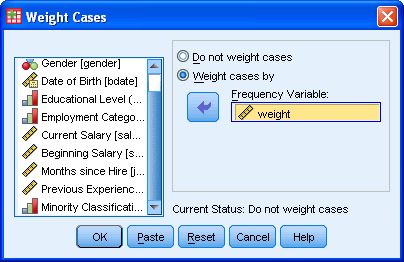 Click the arrow to move the "weight" variable over. Click O.K.
Your cases are now weighted.
Weighting Cases Script
IF gender=0 weight=1.30.
IF gender=1 weight=0.65.
EXECUTE.

DATASET ACTIVATE DataSet1.
WEIGHT BY weight.
For additional questions or assistance, contact Tina Ughrin.