SPSS Paired Sample T-test Screenshot Tutorial
Paired Samples t-tests are employed when researchers wish to test whether group differences in dependent groups are replicable in the population. These groups can be two groups from one population in which their values on the outcome variable are considered dependent on one another (such as husband and wife responses to a marital survey) or one group at two time points.
In this example, we are testing whether we can replicate the difference in salaries for one group at two time points (beginning and current salaries).
Click Analyze -- Compare Means -- Paired Samples T-test.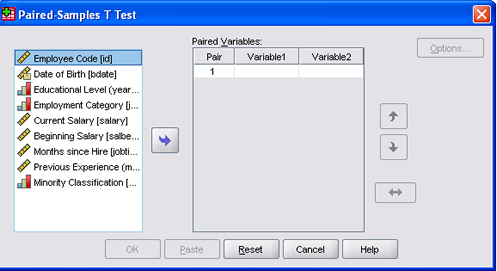 Choose the pair -- Beginning Salary and Current Salary. Click the Blue Arrow.
Click OK.
Sample Output. For annotated Output see the UCLA website.
Paired Samples t-test Script

DATASET ACTIVATE DataSet1.
T-TEST PAIRS=salbegin WITH salary (PAIRED)
/CRITERIA=CI(.9500)
/MISSING=ANALYSIS.

For questions, comments, or assistance, contact Tina Ughrin.