SPSS Pearson Correlation Screenshots Tutorial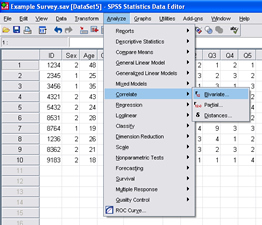 There are a number of Correlation options, this set of slides demonstrates a simple bivariate Pearson correlation. Click Analyze -- Correlate -- Bivariate.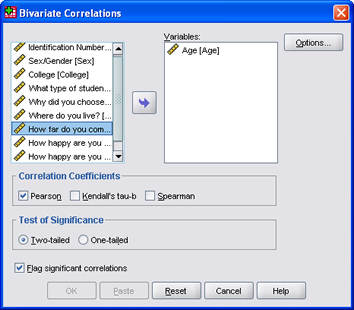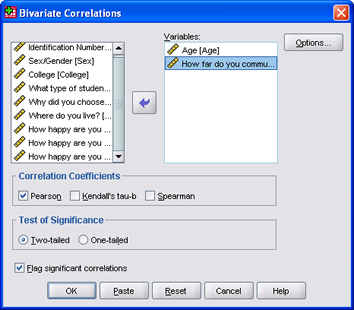 Select the two variables of interest. Click the purple arrow to move them into the Variables box. Choose the Correlation Coefficient (in this case Pearson). Choose One or Two-tailed significance. Flag the significant correlations if so desired. Click Options.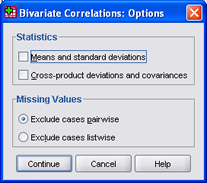 Choose any additional statistics of interest. See the SPSS Help files for more information. Click Continue.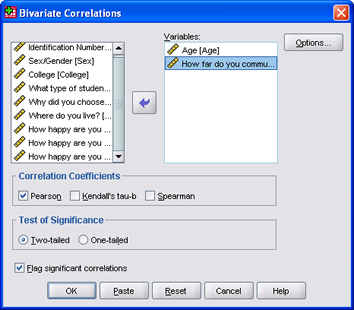 Click OK.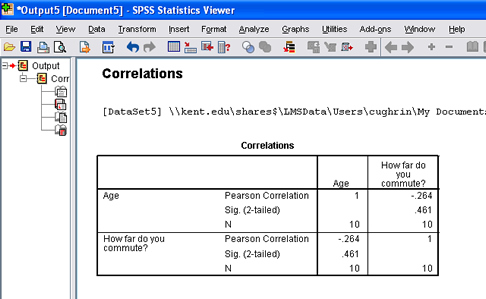 Example Output. For annotated output see the UCLA page.
SPSS Pearson Bivariate Correlation Script
CORRELATIONS
/VARIABLES=Age Q4
/PRINT=TWOTAIL NOSIG
/MISSING=PAIRWISE.
Additional Questions
For additional questions or assistance, contact Tina Ughrin.