Library Resources for New and Returning Students
Welcome to University Libraries at Kent State University! This page fe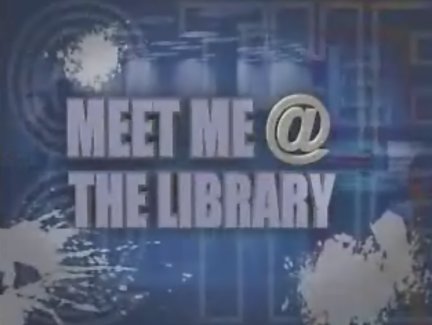 atures a collection of helpful resources to get you started using the library. For a quick introduction, click on the image to your right to view the library's video Meet Me @ the Library.
Getting to Know the Library
Library Locations - There are six branch libraries on the Kent campus that offer specialized resources and services.
Library Tours - Click here to learn more about the lay-out of the KSU main library.
Borrowing Policies - You can borrow a variety of materials from the library, but how long can you have it checked out?
Quiet Study Areas - There are a number of quiet study areas in the library to work independetly.
Group Study Areas - The library has several areas where you can meet with your group to work together.
PALS - Portable Presentation Unit - If you want to practice a presentation you are doing for a class, think about using a PALS unit (computer, LCD projector, small screen). PALS can be checked out for up to three hours from the Audio Visual Services desk on the 3rd floor of the library. PALS are for use in the library only.
How to Use the Library
Distance Learners - Kent offers a variety of services to help distance learners.
Printing in the Library - Learn how to print in the library.
Library Tutorials - Tutorials are available if you want to learn about basic library skills including using the online catalog, basic database searching for scholarly articles, and Web evaluation.
Multimedia Tutorials - Tutorials are available to help you learn how to use various multimedia tools.
My Library Account - Your library account lets you reserve and order books and check the status of the materials you have out.
Off-Campus Access - You can access all the library's services from off-campus.
How to Get Research Help
The Reference Desk - Don't be afraid to ask questions at the Reference Desk in the Information Commons located on the first floor of the library. During the regular semester in-person assistance is available until 9:00 PM Sunday through Thursday and until 5:00 PM on Friday and Saturday.
Subject Guides - Guides to getting started with research in a variety of topics.
Online Reference Shelf - Quick links to all kinds of reference help.
PERCS - Personalized Research Consultations give you a chance to work one-on-one with a librarian who will help you with class assignments related to library research. Appointments need to be made two days in advance, contact the reference desk.
Subject Specialists - Different librarians have different subject specialties. You can contact the librarian directly for help via email or ask for a referral at the Reference Desk.
Student Multimedia Studio - Located on the first floor of the Library in the Information Commons. Stop by to get help or make an appointment.
Tutoring - You can get writing and math tutoring help at the main library. Click here for more information.
Academic Success Center - additional tutoring resources are available from the Academic Success Center.
Writing Center - additional help with writing is available at the Writing Center.