Giving to University Libraries--Program and Activities
Digital Initiatives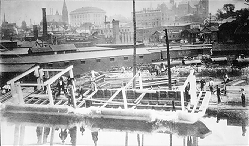 The Internet makes it possible to share unique collections with users worldwide. University Libraries hopes to undertake digitizaton projects that would make its high-demand collections available to the global scholarly community.
Specific examples of collections suitable for digitization are:
Historical images of Kent State University;
The May 4 Archive which documents the events leading up to May 4, 1970, and its aftermath and situates their importance in contemporary American history;
The papers of Betsy Mix Cowles, influential 19th century, Ohio-based abolitionist, feminist, and educator;
The Arthur J. Trory Collection, a photographic record of Northeast Ohio in the late 19th century;
The records of Kent's Twin Coach Company, which designed and built the nation's first urban transit motor coach in 1927.
Private funding for digital initiatives would be used to hire additional staff to undertake digitization projects and purchase needed equipment.
[Photograph is from Ohio Canal collection in Special Collections and Archives: Last boat launched,
State Repair Boat No. 2, Akron, Ohio, circa 1907].