Giving to University Libraries-- Teaching and Learning
Graduate Assistantships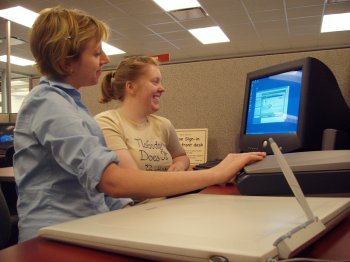 As a large research library, University Libraries can offer students significant pre-professional experience in the areas of librarianship and instructional technology. An endowed fund could support graduate assistantships for outstanding students in the School of Library and Information Science. University Libraries would benefit from their energy, enthusiasm, and emerging skills.
[Photo: Student assistant in the Student Multimedia Studio assisting a student with a video editing project.]
Gifts in any amount are welcome. Named endowments begin at $250,000 and provide a nine-month stipend of $12,500. Endowments at the $400,000 level generate $20,000 annually to provide a 12-month stipend for a named graduate fellow.
[Photo: Student assistant in Special Collections and Archives reviewing a collection with patrons.]