Giving to University Libraries--Facilities
Performing Arts Library | Digital Teleproductions Studio | Group Study Areas | Quiet Study Areas
---
Performing Arts Library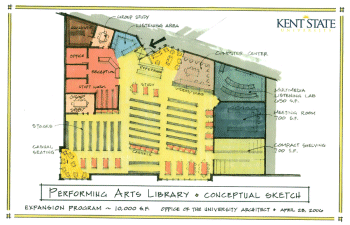 Fundraising efforts are underway to raise support for a Performing Arts Library to be part of the planned Roe Green Center which will provide a new home for the School of Theatre & Dance in the Music & Speech Building. The new Performing Arts Library will enhance the resources and services supporting both that program and the School of Music.
The 10,000 square foot space will integrate theatre and dance collections with the music collection to bring together books, videos, scores, and sound recordings. State-of-the-art listening and viewing equipment will enable students and faculty to experience and analyze performances and enhance their understanding of the various art forms. Students will also have access to computer workstations with specialized multimedia applications. The Library will provide a common space for students from both Schools to gather and work together.
Named Gift Opportunities
Performing Arts Library: $1,020,000 (10,000 sq.ft.)
Multi-Media Lab/Classroom: $71,400 (700 sq.ft.)
Computer Center: $61,200 (600 sq.ft.)
Meeting Room: $51,000 (500 sq.ft.)
Listening Area: $25,500 (250 sq.ft.)
Group Study (medium): $24,480 (250 sq.ft.)
Group Study (small): $12,240 (120 sq.ft.)
Compact Shelving System: $116,025 (for 85,000 vols.)


---

Digital Teleproductions Studio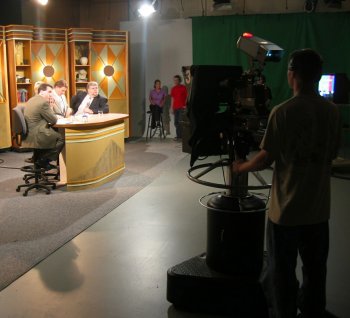 The teleproductions industry is moving rapidly from analog toward the exclusive use of digital equipment. A fully equipped digital production facility will make it possible for Kent State's Teleproductions Department to continue to create broadcast quality programming that will meet the needs of the University's academic and promotional users for many years to come. This leading edge facility will provide students who work on various productions the opportunity to use the same kinds of equipment they will be using when they graduate and move on to private enterprise.
Named Gift Opportunity
Digital Teleproductions Studio: $1,600,000
[Photo: Teleproductions Studio with student workers.]
---

Group Study Space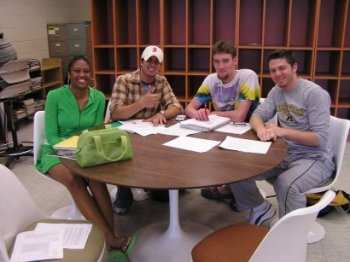 Today students are much more frequently engaged in group work and find the Libraries are a welcoming place to meet and work.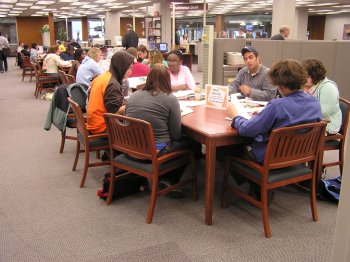 Our goal is to create more dedicated spaces that support group work by providing tables and chairs that can be arranged as needed.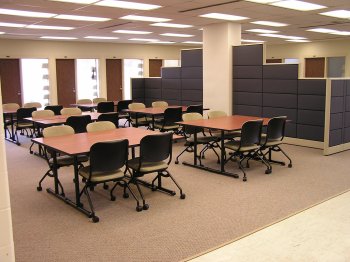 One example is the Collaborative Learning Space on the 6th floor, Main Library.
---

Quiet Study Areas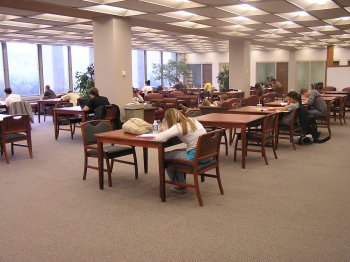 The Quiet Study Area on the first floor of the Main Library has been a very popular place for individual students to study. The Libraries are a neutral space on campus offering long hours, plus ready access to computing and other resources.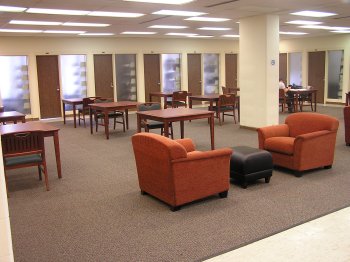 We hope to create additional, designated Quiet Study floors similar to this one on the fifth floor, Main Library.