Giving to University Libraries
University Libraries Today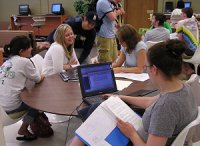 University Libraries (UL) continues to adapt to address the challenges of the present and the opportunities of the future. We are committed to student success and work actively with faculty to develop the information literacy skills students need to succeed.
Each academic discipline has its own professional librarian who is available to guide student research and collaborate with classroom faculty. Proactive online services complement traditional in-person assistance. Access to a librarian is available 24/7, as well as the capability to request materials online from libraries throughout Ohio and beyond.
University Libraries is a member of the prestigious Association of Research Libraries and maintains a collection of 2.7 milllion volumes. Collection development focuses on undergraduate needs as well as building areas of strength to support specific research interests. Special Collections and Archives provides access to unique collections for a worldwide audience.
The Main Library building houses specialized services such as the Student Multimedia Studio, the Writing Commons, and math tutoring. These initiatives to contribute to student success are with a backdrop of utilizing ever-changing technology to serve users in new and more customized ways and working to make our physical spaces match user needs.
The Difference You Can Make
Donor gifts can make a difference for students in the services we offer and with scholars in the resources we provide. Your gifts can help us in the areas of:
Ways to Give
There are many ways to make a contribution to University Libraries, as well as many rewards for doing so. Charitable giving gives you the satisfaction of investing in human potential, as well as possible tax benefits. Certain types of gifts may increase your retirement income or the amount your heirs will inherit.
Kent State offers a full spectrum of options for charitable giving. These are outlined at http://www.kent.edu/advancement/waystogive/index.cfm.
We can assist you in determining the most advantageous method of providing support, tailored to your needs and philanthropic intentions. For more information, contact Christine Isenberg by e-mail (cisenber@kent.edu) or by calling (330) 672-2767.