Collaborative Learning Spaces -- Main Library
The Libraries have created collaborative learning spaces that provide an opportunity for students with a research assignment to work together with the guidance of their instructor.  These group work spaces are on the 6th floor of the Main Library and serve as open study areas when not reserved for classes.
The area is in close proximity to the library's print collection and can facilitate use of those materials.  Arrangements can be made to have a librarian provide an introduction to available sources and their use.
Two areas are available:
Area 6A
Area 6A has 6 tables and seating for 24. Tables and chairs are movable.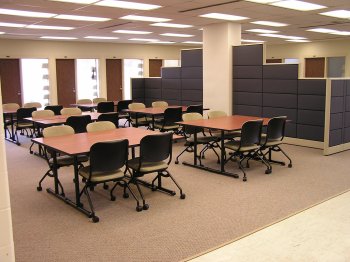 Area 6B
Area 6B has 6 large library study tables, seating for 24. Chairs are movable.
Other Features
It is possible to arrange for access to a teacher's workstation with computer, projector, and document camera. Both stationary and portable white boards are available. The area has wireless network access.
Reserving a Collaborative Learning Space
1. Call the Reference & Instructional Services Office (330-672-3045) at least 48 hours before the date needed.
2. A faculty member may reserve 6A or 6B up to four times per semester for each section of a course. This is not meeting space, nor is it to substitute for assigned classroom space.
3. Notice of the reservation will be posted on the 6th floor. When not reserved, these spaces serve as regular study areas.