Searching Skills: terminology and concepts; the search process; tutorials
Searching the communication literature requires awareness of the resources available and effective searching skills. The best results of database searching come from a good working knowledge of database content and structure, search strategy development, and how to critically evaluate the information received.
Terminology and concepts
What is a DATABASE?
According to the Free On-line Dictionary of Computing , a database is, "one or more large structured sets of persistent data, usually associated with software to update and query the data. A simple database might be a single file containing many records, each of which contains the same set of fields where each field is a certain fixed width."   
Research databases typically index hundreds of journals in a discipline. They may also include book chapters, dissertations, reports, and other materials.
A database is made up of RECORDS. Each record is made up of FIELDS. For example, PsycINFO is a DATABASE. It has over one million RECORDS, each one providing information about a publication. Each RECORD has 14 FIELDS, that is, 14 parts. You can search for words in specific fields, or anywhere in the record.
Below is a sample record from PsycINFO. Note the various fields, such as Author, Title, Appears In, and Abstract.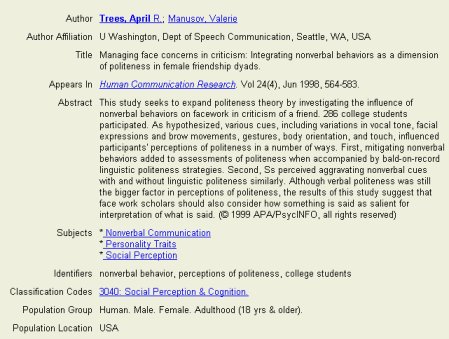 Controlled vocabulary
Most research databases use only certain words to describe the articles that are indexed. By using a defined set of subject headings, articles about similar topics are brought together, giving precise, comprehensive search results. The list of subject headings is called a "thesaurus." You will often need to consult the thesaurus for the database you are using to determine the best subject headings.
Here is an example of a thesaurus entry for a term in PsycINFO. The term is "family background." The entry shows narrower and related terms.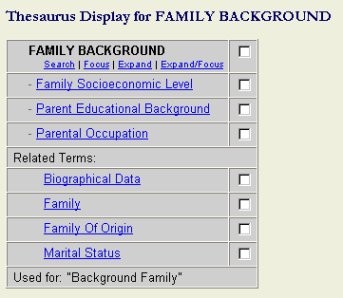 Each database will have its own thesaurus, which means you may need to change the term you are using depending on the database you are in. For example, articles about fear of speaking to others are given these subject headings:
PsycINFO - "speech anxiety"
Education Abstracts - "speech anxiety"
ERIC - "communication apprehension"
Free-text searching
Free-text searching means having the system search for words anywhere in the record. For example, a free-text search of the word "profit," may retrieve articles by Wesley Profit, articles with the word profit in the title (such as, "A Profit Model for Estimating the Effect of Complexity on Risk Taking"), or articles with the word profit in the abstract. Free-text searches are usually done through the "Keyword" search option.
Free-text searching can be very powerful, but can be misleading. It relies on authors who write on similar topics all using the same terms, but that is not always the case. For example, one article about young people may use the term "teenagers" while another one uses the term "adolescents." A free-text term for teenagers will miss the article using adolescents.
The best approach is to determine if your terms are in the thesaurus of the database you are using. Some systems do that checking automatically; others require the user to seek out the thesaurus. If your terms are not in the thesaurus, then try them as keywords.
The search process in 7 steps
1. Identifying your search topic

This is often the most difficult part for students. You need to identify a topic that is suitable for the project at hand and for which you will be able to find previous research. It's easy to pick a topic that is too broad, such as "interpersonal communication." On the other hand, picking a topic that is too narrow may give you problems, too.
The more you learn about the field, the easier it will be to pick a topic that is reasonable in scope. You should also try to pick a topic that is interesting to you. Professors, instructors, and librarians are good sources for advice on search topics.
2. Picking the indexes or databases to search

Communication studies has no single index that provides adequate coverage of communication and related journals. It is usually necessary to search a combination of indexes, which you can do from the communication databases page.
Beyond that, you might use a database that relates to your specific topic. Someone doing a paper in the area of organizational communication could use Business & Industry, the business periodicals database. Someone with a topic related to an instructional setting might also use Education Abstracts.
3. Deciding what type of search to do

The most common type of search is subject searching. However, you may want to do an author search if you've identified a prominent author who writes on your topic. Maybe you need to do a title search because someone gave you a title to an article, but you don't know what journal it's in, or when it was published. You might want to do a free-text search if your topic is unusual or not used as a subject heading. When you first connect to a database, you will see what your options are for type of search. Choose carefully.
4. Putting together a search strategy using operators and truncation
First, identify the important concepts of your topic. For example, if you want to find articles about the effects of television violence on how children interact with each other, you can identify "television violence" and "children" as the most important concepts. "How children interact with each other" may be useful for narrowing your search, but it's too soon to tell now.
Second, identify subject headings for your terms. In PsycINFO, "television" is a subject heading, and so is "television viewing." "Violence" and "Children" are also subject headings.
Next, decide how you will combine the terms together. Combine terms with Boolean operators. There are basically three Boolean operators: AND, OR, NOT.
In the example, you might prepare your search this way:
 television OR television viewing
AND    violence
AND    children
There are three different concepts, one of which has two subject headings.
You are now ready to enter this information into the database. Depending on which database you are using, the exact way you enter the information will be different. Follow instructions presented on the database search screens.
5. Limiting results

Most databases offer lots of ways to limit or whittle down your search results. You may want to look only at journal articles, filtering out book chapters and dissertations. Or, you may want only those items published in the past 5 years, or only articles about certain age groups, such as the elderly. Limits differ by database, so be sure to investigate what the database you're using has to offer.
6. Evaluating the results, modifying if necessary

Once you have a list of articles, take a good look at them and decide if they will help you on your project. If most of the records are not helpful, reconsider your search strategy. There may be a better subject term to use, or you may want to try a free-text search.
7. Getting a copy of search results

Once you get a list of useful materials, you want to keep a record of them. You can almost always print or download the information. Most databases also allow you to email results.
Then what?
You will want to get your hands on the actual article, book chapter, or book. There are lots of options for doing so. Many databases offer links to the full-text of the item you want. Look for a link such as "Full Text" or "Find a Copy."
Sometimes you will need to check your library catalog to see if the library has what you need. If it's a journal article, look in the library catalog for the title of the journal (not the title of the article). If it's a book, look up the book title in the library catalog.

If the library does not have what you need, there several options. If it's a book you want, check OhioLINK to see if you can order it from another library. Otherwise, consult reference or interlibrary loan staff in your library.
Search tutorials
Online tutorials are available for some databases.
Comm Studies Guide - Table of Contents