Reference - Graduate Student Positions
Requirements:
Graduate Reference Assistants (GRAs) must be able to work 12-20 hours during the semester. Evening and weekend hours will be required. Ability to work during intersession preferred. Must be available for at least two semesters. Completion of or concurrent enrollment in the Information Sources and Services (Reference) class preferred.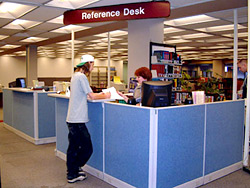 Duties:
Provide direct user assistance at the Main Information Desk, answering in-person and phone queries; assist patrons with the Libraries online catalog, internet, electronic and CD-ROM databases; assist with the development of library guides, bibliographies; provide bibliographic instruction; complete special projects as assigned. Other duties may be included at the discretion of the GRA Coordinator.
For further information contact:
Tom Warren, GRA Coordinator, or 330-672-1662.
For additional GSA Position information go to:
http://www.library.kent.edu/page/10200