SMS Facilities at a Glance
Computers and Peripherals
8 PC workstations with Scanners, CD/DVD Burners, Memory Card Readers, Wacom Tablets and Microphones
2 PC and 1 MAC Video Editing systems in reservable Editing Rooms.
2 PC workstations with mini-DV/VHS decks for quickly digitizing video and audio for PPT and Web presentations
1 i-MAC workstations with all i-tools and Adobe Creative Suite CS5
2 ASL (American Sign Language) Recording Stations to record video directly from a camcorder to a CD-R as a windows media video file
External Blu-Ray DVD burner for burning HD Video projects
Audio Cassette deck and Turntable for digitizing analog audio
A Large Format Document Capture Station (uses a digital camera to take photos of documents too large for scanning)
Printing
Printing from the SMS computers is available for the general multimedia stations only to the print stations in the Reference Center.
Color laser printing is available from computers in the Reference Center, Express Multimedia Workstations, Group Instruction Lab, or the university computer lab on the first floor of the library.
Cost: 14 cents per 8 1/2" x 11" sheet
Black and White laser printing is available from computers in the Reference Center, Express Multimedia Workstations, and Group Instruction Lab.
Cost: 7 cents per 8 1/2" x 11" sheet
Both printers are located beside the Reference Desk.
The university computer lab prints to a black and white printer in the lab.
Wireless Printing
To print from your PC laptop, you will need to download and install print software for each printer that you use in the Reference Center . Once the software is installed, each printer becomes an option when you go to print.
To print from your PC laptop in the Reference Center, download and install either of the following print drivers:
These drivers can only be downloaded from a WPA connected laptop or VPN connection from off campus. Standard NetPrint Rates apply to wireless printing.
Facilities and Software Details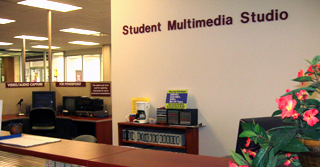 Multimedia / Scanning Workstations

8 PC Workstations
All "scanning" workstations are connected to the web and equipped with flatbed document/slide/filmstrip scanners and microphones for recording voice for presentations.
4 workstations are also equipped with Wacom digital drawing tablets for drawing and painting using pressure sensitive pens that change line width, transparency and color depending on pen pressure... much better than drawing with a "mouse"!
Software includes:
Adobe Photoshop CS5
Adobe Fireworks CS5
Adobe In-Design and Illustrator CS5
Adobe Acrobat 9 Professional
Adobe Flash CS5 Professional
Dreamweaver CS5
MS Word 2007
MS Powerpoint 2007
MS Publisher 2007
MS Windows Movie Maker XP version. One system with WMM "Vista" version also available.


Vista version and Windows Movie Maker Live will be installed for Fall 2010

Sonic Fire Pro (for generating copyright free music of any length for presentations)
MS Excel 2007
Roxio EZ-Media Creator 10
Audacity 1.3.12 and 1.2.6 for recording and editing multi-track audio
PhotoStory 3 for creating windows media videos with narration and music from still pictures
Video and Audio digital format conversion software.
Digital Video Editing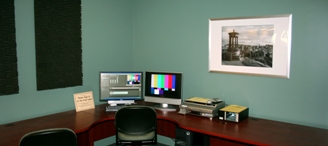 2 Digital Video Editing Rooms that can be reserved in advance.
9GB to 80GB External Hard Drives available for Course Projects.
Firewire and USB2 connections for connecting personal external drives used for "Personal" projects.
PC NLE systems include the following software:
Adobe Production Suite CS5 which includes:

Adobe Premiere Pro (for capturing and editing digital video)
Adobe Encore (for creating DVDs or Interactive Flash Interfaces)
Adobe After Effects (for creating animation, text and graphics)
Adobe SoundBooth (for editing and creating sound effects/music and audio sweetening)
Adobe Flash (for creating flash videos and interactive multimedia presentations)
Adobe Illustrator (for creating and editing graphics)
Adobe Photoshop (for creating and editing graphics and Encore DVD menus

Sonic Fire Pro (For generating music beds for video productions. Limited copyright clearance. National or major market distribution requires additional licensing)
Additional Information about the Editing Rooms:
All Editing Rooms are equipped with mini-DV/s-VHS combo decks and DVD players.
If you have a different tape format, you must bring in your own playback equipment (camcorder with a/v cables) that can be routed into the computer for capturing video.
DVD+-RW Dual Layer Drives for burning DVDs
NEW BLU-RAY Burner now available for HD Video Projects

IMPORTANT: Please read the SMS POLICIES CONCERNING THE USE OF EDITING ROOMS before using the Editing Rooms or before reserving an SMS external hard drive. First time users should ask a Multimedia Consultant for help setting up external video drives and Premiere Projects to assure that data will not be lost or corrupted.
3D Animation Workstation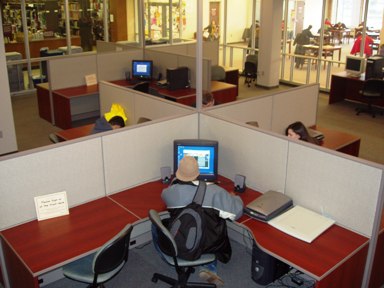 One workstation with Autodesk 3DS Max 2010 for creating 3D animations, compositing it with a video project or exporting finished animation as animated GIFs, Flash Videos or simply video files for use in powerpoint or web presentations.
Video / Audio Digitizing Workstations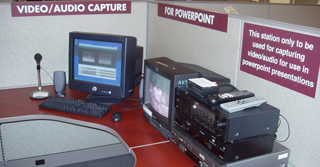 Two workstations that are available on a first come-first serve basis. Can be used to capture video or audio directly to Windows Media formats.
Media Equipment available for playback of source materials include the following formats:
mini-DV (Recorded in SP mode only!)
VHS and S-VHS
DVD player
Audio Cassette Player
Turntable
If you have a different video format, like Hi-8 or Digital 8 or a Camcorder that records to mini-DVD disks, you must bring in your camcorder with AV cables to route through our system for capture and digitizing.
New: i-MAC Workstation now in "Edit 3" Room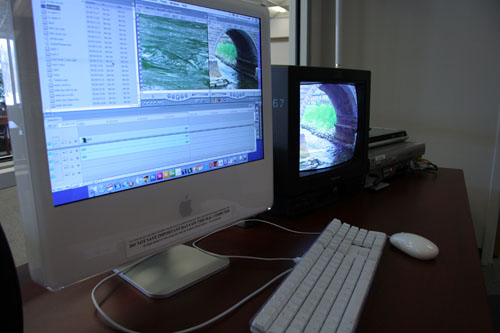 Software includes:
Final Cut Studio 7
Adobe CS5 Creative Suite including:

Photoshop, Illustrator, In-Design

i-Movie
i-DVD
i-Web
Microsoft Office 2008
The i-MAC workstation is also equipped with a mini-DV/sVHS combo deck and an NTSC television monitor for capturing and previewing video.
Now 2 Places for ASL Recording

A second ASL Recording Station has been added to the SMS for students in American Sign Language classes to video their tests, projects and presentations directly to a CD-R as a Windows Media Video to turn-in to their instructors. The new station records exactly the same way as the original....It's easy: No need to learn how to operate a camcorder and no videotape to mess with or convert to digital formats. Just click "Record" then click "Burn to CD-R".
CD-Rs not included ; )
Large Format Document/Object Digitizing (Upgraded)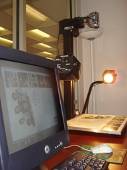 The new 8 mega-pixel Canon Digital SLR camera has been installed and is now ready for shooting high quality photographs of documents, maps, artwork, architectural drawings or anything too big for a flatbed scanner... even 3D objects. Complete control over exposer, shutter speed, ASA, etc. is done at the computer workstation and the photographs are saved directly to the computer's hard drive for editing or transfer to your own removable media.
Music
The SMS just installed over 70 Gigabytes of music on a music server, making it available at all workstions for use in multimedia works for classroom and internet use and distribution under a limited licensing agreement (see below). 
One of the great features of this music is the software that is used, Sonic Fire Pro.  Sonic Fire Pro allows music to be "composed" from "basic" genres, styles, moods, instrumentation criteria to fit any specified playback time.  It even allows the creator to generate different "moods" within a composition to allow for different types of coordination with other audio elements, like narration or sound effects in an audio project using Audacity or with aural/visual elements in a video project or powerpoint presentation.
AND..... most importantly....IT"S EASY TO LEARN AND USE!!
For a preview of how Sonic Fire Pro works, visit the company's demo/tutorial website at: http://www.smartsound.com/sonicfire/demos/index.html
Licensing Limitations:

The limited licensing does not allow use of the music for major theatrical feature films exhibited in public commercial theaters or as part of a national televised broadcast, as defined by broadcast in more than five (5) states and in more than one single major market without obtaining additional licensing.  See the Licensing Agreement available in SonicFire Pro software for more detailed information.
Student Multimedia Studio