Student Friends of the Library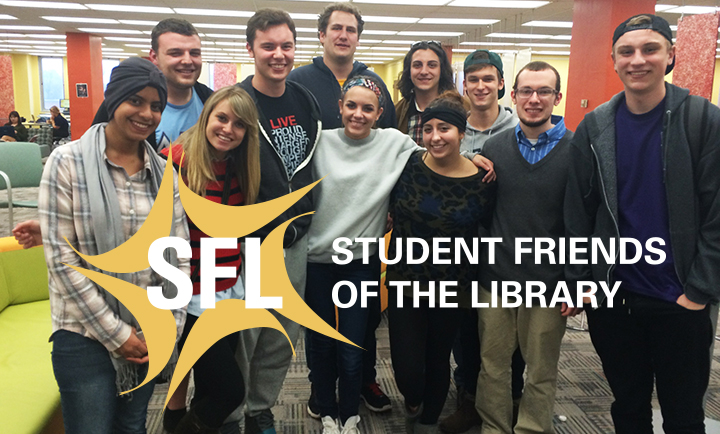 Student Friends of the Library is an organization that exists to engage and involve students with the Kent State University Libraries. You receive invitations to student events held in the University Library, Architecture Library, Performing Arts, Map and Fashion Libraries on the Kent campus, as well as important announcements or opportunities to volunteer for fun and networking with other Friends.
Join Student Friends of the Library Today
There is no charge for membership. Email us at LibraryFriends@kent.edu or call Cynthia Williams at 330-672-0159 for more information.

Student Friends of University Libraries' Coloring Book Contest!
Help the Student Friends of University Libraries create pages for our first Coloring Book! 
Draw a page showing the adventures of Rocky, the official University Libraries' mascot, participating in the services or activities offered by the Library. Selected winners' names will appear in the book with their art!
CONTEST RULES AND RESTRICTIONS: 
Each entry must meet the following restrictions to be eligible.
This is a skill-based contest and chance plays no part in the determination of winning.
Contest is open to all Kent State students, faculty and staff. Parental consent is required for entrants under age 18 if selected as a contest winner. 
Contest begins Friday, Nov. 18, 2016 at noon and ends on Friday, Dec. 16, 2016 at 11:59 p.m.
Create a drawing using pencil, crayon or markers on a sheet of paper.  Take a picture of it or scan it and email to  LibraryFriends@kent.edu. Your entry must include your full name, Kent student ID and telephone number.  Only one entry per person will be accepted. Please email any questions to LibraryFriends@kent.edu.
Files should be a be a 300 DPI in a jpg format and no larger than 10MB. Contest winners will be notified by email from LibraryFriends@kent.edu.
Entries will not be accepted that contain images that are irrelevant to the purpose of the contest; promote alcohol, illegal drugs or tobacco; defame, misrepresent or contain disparaging remarks about people or companies; contain obscene or offensive language; endorse any form of hate or hate group or be derogatory to any ethnic, racial, gender, religious, professional or age group; contain materials embodying copyrighted images, names, likenesses, photographs or other indicia identifying any person, living or dead, without permission; communicate messages or images inconsistent with the positive images and/or goodwill with which the University Libraries wishes to associate; depict any illegal activity; references persons or organizations without written permission from any person or organization whose name or likeness is used; or includes photo images of a known celebrity or well-known person or any image, other than "Rocky," which violates the right of privacy or publicity of any person. 

Wanted: Student Volunteers to lead and direct the activities of the Student Friends of the Library. Interested? Email LibraryFriends@kent.edu.